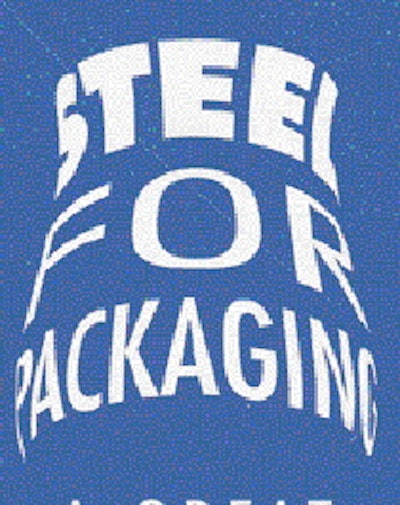 There are often substantial differences between packaging in Europe and in the U.S., especially in the area of environmental concerns. But the similarities are far more striking. Several speakers at the 1999 Intl. Steel Packaging Congress, held in Dsseldorf, Germany, May 6, cast an interesting light on packaging that connects with consumers in Europe. The Congress, held at the Rheinterrasen on the bank of the Rhine River in downtown Dsseldorf, is sponsored by Apeal, the Assn. of European Producers of Steel for Packaging (Brussels, Belgium). Its one-day program drew some 430 participants, made up of steelmakers, canmakers, packagers and those that service these companies. The program was moderated by Mike Hewitt, publisher of Marketing Magazine in England. Although it really wasn't promoted as a keynote address, Andrew Doyle, managing director of design consultancy Holmes & Marchant Intl. (London, England), put a strong consumer spin on packaging, calling it "The skin of our culture." He explained that by calling packaging "the skin or visible sign of how consumers are thinking and acting. It's the most tangible expression of the bubbling soup that we call consumer trends." In fairness, Doyle credited the title to a British author. "My message to you from the consumer is that your packaging material needs to reflect consumers' needs and desires today. Otherwise, you are in danger of being known as the packaging skin of yesterday's culture," he warned. He said the number of trends were few, and he'd be happy if attendees remembered only one, what he called the "mother of all trends--time." He said it's the preoccupation of the Western world: how to use it and how to get more of it. Packaging and time In making this point, Doyle asked attendees to recall when computers and robotics were first being discussed, and how the public and workers were all going to benefit from extra free time. "How much have we got today? One hundred eighty precious minutes. This is the amount of time each day that we're not eating, sleeping, traveling, working or grooming," he reported. Amplifying on that, he said that a working woman has just 37 minutes each day to shop, prepare and cook for her household. "Now, you'd imagine that a traditional housewife [not working outside the home] would have a lot more time. And she does: two more minutes!" He also cited another example--19 seconds--the amount of time per supermarket visit a shopper has to browse, compare and select products from one of the main meal products categories. The average European store stocks 22ꯠ SKUs, while the average shopper buys just 35. The effect on packaging is that consumers are increasingly prepared to spend a lot of money for packaging solutions that win them time, Doyle said. While many in steel packaging are locked into the "value for money" paradigm, the new reality is that the prevailing paradigm is "value for time," borrowing a phrase from British author Alan Mitchell. By way of an example, Doyle reported that shoppers are "16 times more willing to pay for fish in an easy-use tray versus. fish in a steel can." In a microwavable tray, a fish product displays the "value of time," while the metal canned fish exhibits only the "value of money" to the shopper. That's not bad, but today time is more important than money. "This is absolutely crucial to packaging producers because you represent one of the key shortcuts that consumers use," says Doyle.

Time: compression of life

What these shortcuts can deliver is both a quality of life and what Doyle said is "quality in life." With only 37 minutes to shop and cook, consumers want and need packaging to help them save time. Packaging needs to do more than just protect and preserve the food; "packaging must give them value for time." And consumers expect manufacturers to listen to them. One of the most common words that Holmes & Marchant hears in consumer focus groups is "patronizing." In packaging formats and design, many consumers feel they're Formula One drivers, he said, though they're often being offered only Fiat 500 ideas. (Translated into American icons, it might be Corvette drivers that only see Geo Metro packaging ideas.) Tray vs steel can in pet food In research that his firm did in three European markets, Doyle reports on a comparison of pet foods in various containers. It showed these consumers a variety of packaging styles--all unbranded--and asked for spontaneous reactions. An aluminum tray with lidding evoked responses like: light (quality of life); stores well (small households); easy-to-open (no time); easy-to-serve (no time); no sharp edges (quality of life); easy to dispose (small households); recyclable (quality of life); one meal (quality); travel bowl (quality in life); and good for small pets (no time). "Compare this with the messages that a basic metal pet food can evoked: low quality, heavy, ring-pull, not easy, sharp edges, need a fork, tinny smell, doesn't reseal and difficult to dispose." When asked, the same group said these were the benefits most important in pet food containers: portable, easy-to-store, easy-to-open, light in weight. "It's vital for people in packaging to know precisely what key benefits consumers are looking for in your packaging format. What you think they want is unimportant. So is what they may have wanted five years ago," Doyle noted. Consumers use packaging very cleverly to help them shop and cook more quickly. For them, Marshall McLuhan's "the medium is the message" is a reality in packaging. Six quick tips When asked to give guidance about designing new packaging materials or containers, Doyle concluded with a list of six points. * Design for one glance. Because that's all the time consumers will give you in the store. Make your package tell a story quickly. * Design for one brand. Many graphic elements are being stolen by "own labels" (privatelabel products), using the same graphic signals that used to give brands their uniqueness. The challenge is to help brand owners still achieve this. Doyle cited Ruddles County Beer as an example of a brand that has achieved a special distinctiveness through packaging. However, he reported that the company invested all its promotion money on new bottle molds that provide its unusual shape. * Design for one person. Single-serving packaging is becoming more and more popular. Food companies, Doyle said, should design for that single person who arrives home late at night, wanting to eat quickly and easily. Here, Doyle showed a wrapper for a single-serve Mars ice cream bar. * Design for one room. This very European suggestion says that dwellings are becoming smaller and smaller as land becomes scarce, so manufacturers need to think about how your package is stored and how it's eventually disposed. * Design for one minute. Your packaging needs to help consumers open it, cook the food and allow the consumer to begin eating as quickly as possible. * Design for one experience. Packaging, Doyle said, can be a marvelous picture frame for a brand, enhancing the product experience. Make the product a real hero, he suggested, by the quality of the experience consumers get from packaging. To illustrate, Doyle contrasted the anticipation of opening a bottle of Chivas Regal scotch to the noise of a can opening. * Design for one life. Understand how your product is used, and what features consumers want in a package. By example, he showed a plastic container for Sanatogen line of vitamins that most closely resembles the container for a stick deodorant. But the container is an easy way to dispense vitamin tablets. Although many of his examples were anything but steel containers, Doyle concluded by telling the audience that steel can deliver the sexiest packaging on earth and illustrated it with a slide of the new Volkswagen Beetle. Retail rules packaging After Doyle's rousing presentation, the next speaker quickly admitted that he knew absolutely nothing about steel or about packaging. Chris Field is the European retail analyst editor for the Financial Times in England. His presentation essentially predicted the end of conventional retailing in the coming decades, thanks to new concepts in the way retailers will interact with consumers. He said that the telephone, the personal computer, the Internet and television are combining to completely transform the distribution of goods in the coming years. And this will, by extension, affect packaging. He admits that there are two schools of thought about how goods will be purchased in the future, but Field seemed to endorse the concept of "the rise of sofa retailing." He cited the number of retailers that have embraced on-line selling, including The Gap and Wal-Mart in the U.S., along with supermarket chains Tesco in England and Migros in Switzerland. To this list, he added the manufacturers who have become retailers (i.e., Nike, Doc Martens, Coca-Cola and Procter & Gamble) to point to a whole new way that consumers can shop. Along with polarization of concepts and consolidation of companies, he discussed the kind of store innovation underway around the world, including Safeway Order & Select, Bread & Circus in Boston, Albert Heijn in the Netherlands and Orchard Park Mall in Canada. What these retailers are promising, Field said, is personalized marketing, product innovation, assisted non-store shopping, along with a variety of retailer benefits like reduced supply chain costs, labor scheduling improvements and brand support. The result, Field predicted, is that there will be fewer conventional supermarkets in the future. Why? Because there is a strong demand for home delivery. However, Field says this won't automatically be provided from warehouses, no matter how efficient that might be. He reports that Safeway's program does not include products shipped from some warehouse, but rather from local stores the consumer has personally shopped in the past. He also sees growth in what he called convenience and "forecourt" stores. For example, he cited Shell Select, limited grocery stores combined with Shell gasoline stations. Why not, he asked, since Shell can't make money on gas. To food and household product manufacturers, the implication is that there is a similar volume of packaging, but there will be less variety. To meet the needs of consumers who won't shop in person, more stringent standards will be required on size, weight and strength of packaging. Europe's environmental legislation will force more innovation in packaging from manufacturers. And, most importantly, new packaging will be required to meet changes in the supply chain of retailers in the future. By way of example, Field cited Tesco's use of the Internet to adjust shipments of incoming products based on the success of promotions or features. Design and color in packaging A thoughtful presentation about the mechanics of consumer appeal was presented by Gerard Caron, a package designer and founder of the Pan European Brand Design Assn. He discussed the rational and emotional approaches to create a retail impression, and he analyzed certain worldwide designs. He explained how people "decode" a package's colors to create an impression of the product almost subconsciously. "Animals in the wild survive by constantly decoding colors and shapes [into friends and foes], and humans are animals after all," he said. "Selecting the wrong color can be deadly for animals, and the same is true for packaging design." He offered one example of the importance of package color. When 40 consumers were shown the same yogurt product in both an attractive blue cup and in an unattractive brown cup, only one consumer said the yogurt in the brown cup was superior to the same product in the blue cup. Those selecting the blue cup preferred it because it was "sweeter, softer, definitely the best," Caron reported. Even after the consumers were told the product was the same in both cups, they persisted in their choice, saying it was not influenced by cup color, but only by taste. Packaging materials also convey messages to the consumer's brain, Caron said. Designers have to make the right choice, but the selection is not only a matter of design. "But, in the end, because materials are directly related to our sensuality, and even more to our sexuality, choosing the right material for the package can be a major factor in a product's success. "For many years, steel packaging used to be closely associated with the traditional can shape, which no longer fits the new consumer's expectations. Fortunately, steel makers are now looking for innovations. Are designers well-informed about the new capabilities of steel packaging? Or is steel packaging locked in their minds as an old and non-creative material?" Caron asked. Later, in a panel discussion, Andy Knowles of designer Jones, Knowles Ritchie (London, England) confirmed Caron's comment. He said that he felt most designers only think of metal packaging, not distinguishing between steel and aluminum. Another panelist echoed this comment and added, "The problem with steel is that freshness is the major packaging trend, and we're not in it," said Volker Baltes, marketing manager of Erasco, the Campbell Soup subsidiary in Germany. Steel defenders Later in the morning, the program focused more on the advantages and opportunities that steel makers and can makers are bringing to steel packaging. For those who think of steel as a mature material, Germain Sanz of USINOR in France reminded the congress that 40% of the steels used today didn't exist even five years ago. He also explained that due to lightweighting and other developments, steel's share of the beverage can market increased from 45% to 55% in two years. Dr. Chris Elliot of British Steel Tinplate described new computer programs that permit virtual testing of can bodies and seams and other geometry without building models except on the screen. In discussing design, Elliot encouraged designers to be creative. "Steel innovation, not imitation, wins the day," he said. He also showed some examples from the Steel Packaging Design Awards, sponsored by British Steel. In a more general way, Dan Abramowicz of Crown Cork & Steel, discussed his company's worldwide involvement in steel packaging. He also explained how Crown has helped development partnerships with steel suppliers, coatings makers and with customers. Andreas Lankenfeld, general manager of marketing at Rasselstein Hoesch (Andernach, Germany) offered an overview of many of the joint development programs underway by the European steel producers and container makers. Lankenfeld also described how the steel industry worked together on a pet food container project. After extensive research from all segments from steel producers to consumers, the conclusion was that if steel were to recapture a greater share of pet food packaging, it would need to focus on both convenience and appearance. The key attributes needed would be a lighter, but not more fragile container; a less metallic, more attractive appearance; easy opening features; reclosability; stackability; versatility of preparation and easy disposal. He then showed three container designs that are the intermediate steps that steel makers need to "sell" to can makers and to product manufacturers. Lankenfeld also discussed other innovations under development, including can shaping and embossing.
Companies in this article