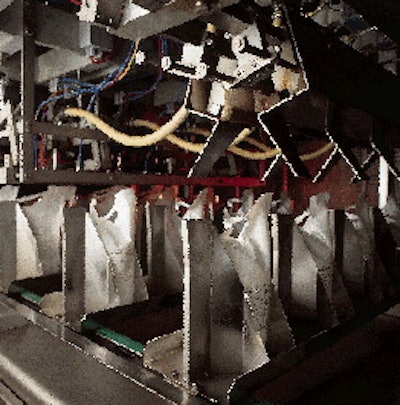 Another stand-up pouch for liquids that's expected to ship to various global markets in the next few months comes from St. Louis, MO-based Trebla Chemical Co. Trebla manufactures and markets developers, bleach kits and other liquids used in photoprocessing. These products are sold to industrial/commercial accounts, such as one-hour photo labs.
Beginning last November, Trebla began filling 2-L quantities of three photochemistry product formulas into pre-made stand-up pouches manufactured by Elag Packaging Ltd. (Kirchberg, Switzerland). Elag is represented in the U.S. by Developmental Concepts (Fenton, MO). The single-use pouches include both a die-cut handle and pour spout.
The linear low-density polyethylene/nylon pouch structure for the three formulas is similar, while the inner LLDPE sealant layer can vary in thickness depending on product density; typically it's 8.66 mils. A proprietary adhesive is used to join the LLDPE to an 80-ga layer of nylon that provides toughness for shipping.
This particular structure replaced a 48-ga polyester/adhesive/7.8-mil LLDPE material from a supplier in Germany. Trouble was, that material developed pinholes at various pinch or fold points in the pouch that lead to failures during drop testing.
Why doesn't Trebla purchase material from a U.S. supplier and reduce its shipping costs? According to Trebla's vice president and general manager Brian Barbo, "We spent more than a year trying to find a film supplier stateside that could help us meet the UN testing specifications we need to meet for shipping. When you put two liters of a liquid mass in a pouch and drop it thirty inches off a table, you don't want it to burst. In the U.S., we ship though a distribution network that uses [a major parcel delivery carrier]. During handling and shipping, we realize that much heavier parcels get dropped on cases of our product, so the packaging has to be able to withstand those kinds of rigors.
"The thickest polyethylene film we could find in the states was about six mils," he continues. "And that's not thick enough. Our pouches would just blow apart at that thickness. Another drawback we found was that most U.S. film converters use adhesive laminations that generally can't withstand the UN testing that stresses the material by subjecting the film to cold temperatures."
Trebla, owned by CPAC, an international firm headquartered in Leicester, NY, has sister companies in Europe. "We communicate with these companies, and that keeps the information on packaging materials flowing," Barbo comments. "We've found that in general, the Europeans are four to five years ahead in pouch technology. That's why we first went with a pouch structure from Germany when we began to use pouches in place of bottles for these products on a limited basis about two-and-a-half years ago."
Unfortunately for Trebla, its pouch material and machinery suppliers dissolved, though Trebla continues to use the original supplier's filler. But while Trebla maintained some pouches in reserve, the lack of supply put the company's plans to use the stand-up pouch on a widespread basis on hold for more than a year while it searched for a suitable film supplier. Trebla hooked up with Elag early last year at a stand-up pouch conference in Atlanta sponsored by the Society of Manufacturing Engineers (Dearborn, MI).
"Elag has really helped us move forward with marketing our pouches," says Barbo. "The materials meet the UN test specifications we require, and they've allowed us to re-enter the pouch highway at 65 miles-per-hour instead of going at 20 or less, as we had been."
Trebla receives pouches from Elag that are completely sealed, except for a small pour spout opening at the top. Before filling, operators manually label the pouches. The 3.15" x 3.15" paper labels are supplied in roll form by A&D Labels (High Ridge, MO). Labels are a 60#-test paper facestock/adhesive/40#-test kraft liner with silicone release barrier. A&D flexo-prints the labels in red. While still on the web, the printed material is laminated with polypropylene as a protective barrier, then die-cut into individual rolls for shipment to Trebla.
"This pouch isn't going to the retail market, so there's no need for excessive graphics," Barbo points out. "But we do have them laminated so they can be read even if the non-hazardous product were to spill on the pack."
After the pouches are labeled, they're filled through the pour spout opening, which is then heat-sealed. Fill rates are 16/min (the total output of four filling nozzles). After pouches are filled and sealed, operators at Trebla manually pack them into a box and palletize them prior to shipping.
Future plans
Barbo tells PW that Trebla also plans to use the pouches for several other liquid formulas that it currently fills in bottles. That's possible because of the reliabile supply of Elag pouches. In addition, with the durability of the new structure, Trebla plans to ship to locations where it also distributes photographic developing products in bottles. These destinations include the Far East, Mexico, South America and Canada.
Additionally, the company hopes to move into contract packaging. "One of our business thrusts is to offer our blending and packaging capabilities to other companies, in both our own and other industries," explains Barbo. That includes competitive products. "Why not have the competition become your customer?" he asks rhetorically. "We want to branch out from our traditional market. By moving into this flexible pouch, we feel we're in a good position to do just that."
Companies in this article
Videos from Universal Labeling Systems, Inc.