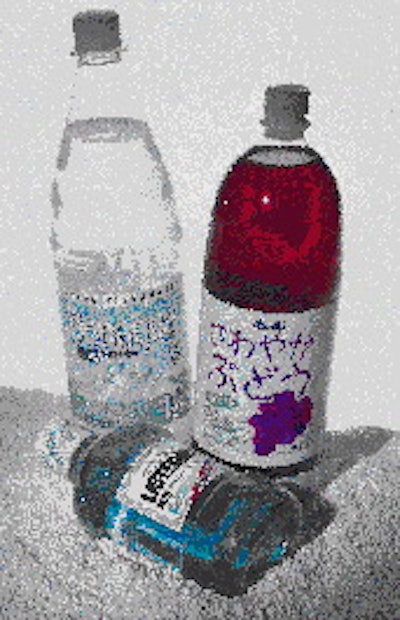 Among the more exciting developments in the packaging arena recently has been the emergence of high-performance polyethylene naphthalate (PEN homopolymer) and naphthalate-based copolyesters that share some of PEN's performance properties. Packaging World has covered late-breaking news about these new resins in past issues (see PW, November '94, p. 111 and June, '95, p. 2). This report is a more in-depth look at some of the commercially available naphthalate-based packages as well as a glimpse at the kind of packages that are on their way to the marketplace.
But a useful first step is an overview of these materials and their high-performance characteristics. The discussion here will focus on injection stretch/blow-molded containers only. Extrusion blown containers and flexible film applications are in development as well, but more work has been done with ISBM containers.
NDC's the key
Similar to polyethylene terephthalate, PEN differs from PET in one key ingredient: While the feedstock for making PET includes terephthalic acid as a chief component, homopolymer PEN has as its main ingredient naphthalate dicarboxylate (NDC). This monomer is supplied chiefly by Amoco Chemical, (Chicago, IL), though Mitsubishi Gas Chemical (Tokyo, Japan) also makes it.
Amoco's decision in 1993 to build an NDC facility in Decatur, AL, is one big reason for the current surge in interest in PEN. Scheduled for completion this month, the plant will serve as a source of raw material in commercial quantities for resin companies wishing to make PEN. Amoco says that when the plant goes into production, Amoco NDC will be sold at $1.50/lb. A 27ꯠ-ton per year capacity is anticipated.
Pure PEN homopolymer performs significantly better than PET in key areas:
* Oxygen and moisture barriers of PEN are four to five times that of PET.
* Glass transition temperature of PEN is 43 deg C higher than PET. That means PEN containers can be hot-filled without sidewall deformation.
* PEN has high chemical resistance, which, combined with its ability to withstand high temperatures, makes it a suitable material for returnable/refillable bottles that must be washed in hot caustic solutions.
* PEN has superior resistance to ultraviolet light.
* PEN's superior mechanical properties, including 35% higher tensile strength and 50% greater flexural modulus than PET, should allow some downgauging compared to PET bottles.
* Molding and blowing cycles are shorter than those of PET.
The first major field test of a bottle made from homopolymer PEN is a returnable/refillable 1.5-L bottle for Bonaqua mineralized water being tested in Uruguay by Montevideo Refrescos S.A., a bottling company owned by Atlanta-based Coca-Cola Co. Refillables of both glass and plastic are used widely in Uruguay. But until this market test began, Coca-Cola had no refillable plastic bottles in the market. Equally new to Uruguay is the product itself, which is marketed by Coca-Cola bottlers in other countries.
Teijin, Ltd. (Osaka, Japan) produces the resin and the ISBM bottle is made by Cristalpet (Montevideo, Uruguay) using Husky (Bolton, Ontario, Canada) injection molding equipment for the preform and a Sidel (Doralville, GA) system for blow molding. The bottle weighs 77 g, which, according to a Coca-Cola spokesperson, is less than a typical refillable PET bottle. Coke also says the cycle times "are slightly less than those for PET bottles." The reduced weight and shorter production cycle times reported by Coke bear out the improved mechanical properties of PEN over PET.
Not much more specific information about the Bonaqua bottle is available from Coca-Cola, which emphasizes that the bottle is in test only and that the test just began April 15. One thing the technicians in Atlanta will be watching closely is the number of trips the bottle can make and how it performs in a hot caustic wash.
Presumably it will outperform refillable heat-set PET bottles, which have proven in the field that they're good for 20 trips and can withstand washing temperatures of 140°F. Laboratory studies suggest the Bonaqua bottle should do well. A PEN homopolymer bottle produced in a Sidel/Amoco test withstood up to 20 washes in a 185°F caustic solution.
How not to overengineer
As interesting as the Bonaqua test is, it's important to recognize that for most container applications, PEN homopolymer is overkill, especially when it costs four to five times as much as PET. So how does a packager incorporate the performance advantages of PEN without overengineering the container and breaking the budget? Through NDC-based copolymers, PET/PEN blends, or blends of PET with high-NDC-level copolymers.
For ISBM containers, copolymers containing between 15% and 85% NDC levels are not suitable because they are amorphous and thus will not allow sidewall crystallinity. Crystalline compositions containing low levels (15% or less) or high levels (85% or more) of NDC are suitable for ISBM. Low-level copolymers can be an economical means of "borrowing" just enough of the high-performance characteristics of costly PEN homopolymer to meet a specific need. Two good examples are the Listerine Cool Mint bottles for Japan unveiled at Bev-Pak Americas '95 in April and, even newer to the Japanese marketplace, the 1.5-L bottle for Asahi's Grape drink.
Warner-Lambert Japan recently introduced Listerine Cool Mint mouthwash in sizes from 80 to 700 mL (2.70 to 23.66 oz). As is the case in the U.S. marketplace, regular Listerine has been out of glass and in PET for some time now (see PW, August '94, p. 2). When Warner-Lambert Japan was ready to bring Listerine Cool Mint to market, the firm naturally considered PET as its packaging material. But certain ingredients in the product can degrade if exposed to UV light. They can also adsorb into the sidewalls of a PET container. So in PET, over a period of time, the product's Cool Mint flavor dissipates.
The solution was a blend of PET with a low-NDC-level PET copolymer. The two resins are supplied by Japan Unipet to blow molder Yoshino. Unipet doesn't disclose the percentage of NDC in the copolymer, but studies by Amoco have shown that even as little as one percent of NDC in a PET bottle can screen 90% of UV light. Because so little can accomplish so much, the bottle is said to cost approximately the same as a straight PET bottle would.
The Listerine Cool Mint bottles are blown on two-stage equipment. The blend of PET and NDC-containing copolymer is said to perform much like straight PET. Empty bottle weights are 17 g on the 80-mL size, 29 g on the 350-mL and 44 g on the 700-mL size.
An even more recent introduction of an NDC-modified bottle in the Japanese marketplace is the 1.5-L bottle for grape drink marketed by Tokyo-based Asahi Brewery. Here the need is solely a matter of UV barrier. UV breaks down the 10% natural fruit juice in the product if given a chance.
Again, Japan Unipet supplies the resins and Yoshino blows the bottles on two-stage equipment. Unlike the Listerine bottle, however, this container is heat-set, which permits it to withstand the filling temperatures the bottler employs. Without its high-density polyethylene base cup, the empty bottle weighs 49.5 g.
Blends for wide-mouth jars
Though use of low-NDC-level copolymers in blends with PET will continue to grow, blending high-NDC-level copolymers shows promise, too. One of the biggest applications for such blends is expected to be wide-mouth containers capable of being hot-filled at 90°C (194°F), pasteurized, or even retorted. These are a good fit because there are no reliable heat-setting technologies for wide-mouth PET jars as there are for narrow-neck juice and drink bottles. But with the right blend, conventional one-stage injection/stretch blow-molding machines could be used to make clear, lightweight, shatter-resistant and thermally stable replacements for hot-fill glass jars or polypropylene/ethylene vinyl alcohol containers.
One other area where blends may find a niche is in bottles currently using PEN homopolymer. If such a bottle could be converted to a 70% PEN and 30% PET blend, it's possible that it would still have the performance characteristics required of it yet it would cost considerably less.
Before blend technology reaches its full commercial potential, certain technical difficulties must be overcome, particularly if it's PEN homopolymer and PET homopolymer being blended. For one thing, the two are immiscible. Because they won't dissolve in each other, dispersive mixing is needed, so Husky has been developing an extruder screw that mixes the PET/PEN melt without causing degradation. As Husky's Laura Martin reported at Bev-Pak last April, while considerable progress has been made, "Screw design is still something of a 'black art,' and this is the first iteration."
Husky, Amoco and Sidel are now entering Phase III of a PET/PEN Blend Project, which, Martin told her Bev-Pak audience, will focus on blow molding with a new preform design more suitable for PEN blends. "This will give us the appropriate stretch ratios and bring us closer to the ultimate bottle properties which we believe can be achieved with PET/PEN blends. A much larger goal which is also being planned now is to scale up to larger numbers of cavities. We expect to demonstrate that blend technology can be implemented on multi-cavity PET molding systems."
One European firm moving aggressively toward commercialization of hot-fillable and retortable wide-mouth jars made of PET/PEN blends is P.E.T. Partners (Breda, Holland). Managing director C. Killestijn tells PW he expects his customers to begin selling their food products in blends ranging from 30% to 50% PEN by the end of this summer. He admits the miscibility challenge has been a difficult one, though one step toward solving it is to substitute a PET/PEN copolymer for PEN homopolymer.
Better transesterification
"By using as one component in our blend a copolymer of 8% PET and 92% PEN, we get better transesterification than when we're blending two homopolymers," says Killestijn. One of the buzz words commonly heard in discussions of PEN, "transesterification" is nothing more than a chemical reaction that occurs between PET and PEN when they are melted together to make a copolyester.
Killestijn also indicates that precise control over time, temperature, and pressure during injection molding of the preform is absolutely critical. He sums up his firm's work with blends this way: "Large gray areas remain. But in a year's time there will be significant improvements."
Among those gray areas is clearance to use naphthalate-based resins for food contact containers in the U.S. While permitted in a number of countries, the ability to do so in the U.S. hinges on FDA petitions filed by Shell Chemical (Akron, OH), Eastman Chemical (Kingsport, TN) and Hoechst Celanese Corp. (Spartanburg, SC).
Recyclability is another question mark. Ed Sisson of Shell assured Bev-Pak attendees that, after extensive studies by Amoco and Shell, "all our data to date indicate no significant impact." But no one knows for sure what impact naphthalate-based containers might have on PET recyclate if they're given the 1-PETE code that PET bottles receive.
Despite the question marks and gray areas, most observers agree with Killestijn of P.E.T. Partners that naphthalate-based resins will see widespread use in packaging applications in the very near future. Among the signs:
* Eastman in January announced that it would increase its annual production capacity for PEN to 10ꯠ metric tons at its Kingsport, TN, plant.
* Shell Chemical in April unveiled its HiPertuf PEN resins; annual capacity is up to 100ꯠ metric tons.
* Hoechst Celanese expects to have PEN resins available this year and ICI Americas (Wilmington, DE) is said to be pursuing PEN development projects as well.
* UK-based Carters Packaging (Sawly, Long Eaton, Norringham, England) announced in April that it had completed tests on two heat-set naphthalate-based containers using Shell's resins. Carters is now offering custom bottles to beverage marketers for either hot-fill or returnable bottle applications.
"When converters and end users are no longer just kicking the tires, when they know what the material costs and how it can perform, we'll be ready," says Eastman's Jim Caldwell. "It's a polymer with a future."
Companies in this article