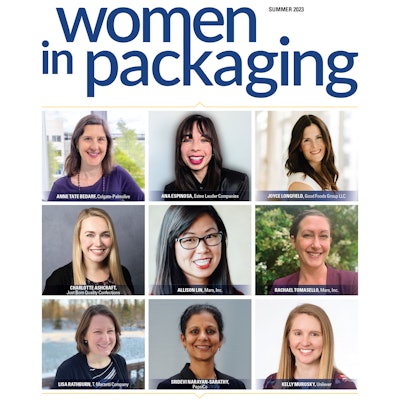 The packaging and processing industries are essential to the global economy, and women play a vital role in leading the way.
Each of the women profiled here comes from a different walk of life and has a wide range of experiences. Some are engineers, scientists, and technologists who are developing new packaging materials and food processing methods. Some are entrepreneurs and executives who are leading big, growing businesses. Others are operational experts, focused on making packaging and processing as safe, efficient and productive as possible. And still others are specialists, dedicated to advancing the cause of sustainability.
---
---
Whatever their background, career path or job role, these women are making a real difference through their hard work and dedication. Each one is doing her part to create a thriving industry, and helping to create a more sustainable future. And each shares her advice, insights and experience in the pages that follow with the goal of helping to advance the role of women in the industry.
To be clear, there is much work that remains to be done. The experience of women in packaging and processing has been marked by challenges and discrimination, but also by resilience and determination. Despite the obstacles, women have made significant strides and become leaders in the industry. With the support of organizations like theirs and continued efforts to promote gender equality by the community at large, women in the industry will continue to break down barriers and succeed. 
Significant challenges remain, but as the 18 profiles on the following pages show, there are many inspiring examples of success. These are just a few of the many women who are making a difference in the packaging and processing industries.
We hope that you will read their stories, linked below, and be inspired by their work.
• Charlotte Ashcraft, Manager, Packaging & Graphic Development, Just Born Quality Confections. Drawing on her own experiences, Charlotte Ashcraft reveals the crucial skill she believes has been instrumental in her career advancement: the ability to adapt and connect with people from all walks of life.
• Anne Tate Bedarf, Director, Packaging & Plastics Sustainability, Colgate-Palmolive. In this exclusive interview, Anne Tate Bedarf a trailblazing woman in the packaging industry shares her inspiring journey, from childhood experiences to becoming an influential leader in sustainability.

• Ana Espinosa, Packaging Sustainability Manager, Estée Lauder Companies. Packaging sustainability leader Ana Espinosa discusses the profound effects packaging has on the environment and consumer behaviors.
• Jo Anne Forman, Sealstrip Corporation. Jo Anne Forman, a seasoned package and system designer, lead inventor, and advocate for women's participation in packaging, discusses the key factors that fueled her remarkable career and accomplishments.
• Rose Graffin, Serac Holding. Rose Graffin offers insights and advice based on her experience, expertise, and vision for increasing female representation in leadership positions. Learn how she navigated challenges, embraced mentorship, and unlocked the secrets to her success.
• Lisa Hirsh, Accurate Box Company. With a remarkable four-decade journey as a third-generation leader, Lisa Hirsh shares her experiences and insights on paving the way for women and fostering inclusivity in the packaging industry.
• Jennifer Lawrence, Pregis. Jennifer Lawrence discusses the challenges she faced In a male-dominated sector and the strategies she employed to shape her path to success.
• Allison Lin, Global Vice President of Packaging Sustainability, Mars, Inc. Allison Lin shares her experiences and insights on driving sustainability. Find out how she overcame challenges and why diverse perspectives are critical to solving global packaging waste.
• Joyce Longfield, Principal of High Pressure Processing Applications, Good Foods Group LLC. Joyce Longfield turned her passion for food into a trailblazing career in packaging machinery and materials. She shares her experiences, challenges, and unique opportunities as a woman in the field.
• Kelly Murosky, Sustainable Packaging Manager, Unilever. Kelly Murosky shares her experiences from product development to her current role at Unilever, driving the "less plastics" agenda and discusses how she overcame challenges, embraced confidence, and carved a path for women in sustainable packaging.
• Sridevi Narayan-Sarathy, Director, Global Foods Packaging, R&D Senior Fellow, PepsiCo. Sridevi Narayan-Sarathy shares her experiences in driving sustainable initiatives on a global scale. She discusses her key success factors and offers valuable advice for aspiring women in packaging.
• Margret Oolders, Glenroy, Inc. Margret Oolders shares the key factors behind her triumph in the packaging industry. She shares valuable insights into success, empowerment, and the need for a more inclusive industry.
• Lisa Rathburn, Vice President of Engineering, T. Marzetti Company. Lisa Rathburn shares the secrets of her success, reflects on pivotal moments and mentors, and offers advice for aspiring women in the field of packaging.
• Claudia Silvie van den Pol, Royal Apollo Group, parent company of Ryson International, Inc. Claudia Silvie van den Pol discusses the role of empowerment and open dialogue in fostering gender balance in the packaging field. She also discusses her challenges, triumphs, and the key factors behind her success.
• Kelley Stacy, SMC Corporation of America . Kelley Stacy discusses the challenges faced by women in the male-dominated packaging sector and shares her experiences, challenges, and the keys to her success.
• Rachael Tomasello, Global Director of Strategic Capabilities, Business Colleges, Mars, Inc. Rachael Tomasello discusses her journey from managing global supply chains to driving learning and development strategies at Mars and shares the challenges she faced and the key factors that fueled her success in the packaging industry.
• Renee Wierenga, Fogg Filler. Renee Wierenga shares her journey as a woman in packaging, highlighting the transformative power of diversity to fuel innovation.
• Nancy Wilson, Morrison Container Handling Solutions. Nancy Wilson shares her empowering insights as well as strategies to overcome challenges and succeed in a male-dominated packaging landscape.