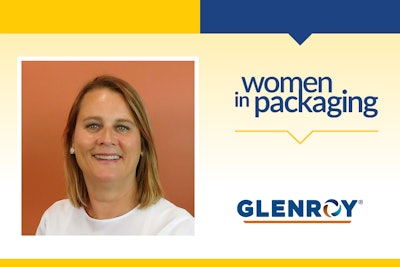 Empowerment, success, and fostering a more inclusive industry are just a few of the key topics discussed by Margret Oolders, Vice President of Operations, Glenroy, Inc., in an interview featured in Packaging World''s Women in Packaging July supplement. She shares her journey and offers advice to young women considering a career in the packaging world.

What is your name and position?
Margret Oolders, Vice President of Operations, Glenroy, Inc.

Tell us about your background and how you got into the packaging industry.
My path into a career in the packaging industry was through supply chain. I worked at a few other companies in supply chain and planning until 2018 when I was hired at Glenroy as the production control manager. Thanks to the many opportunities at Glenroy, my career progressed quickly. I made it to VP of operations this year. It has been an amazing journey!
What are some of the challenges that you have faced as a woman in a male-dominated industry?
My parents had a distributor business. My mother was the warehouse manager, surrounded by all men. I think because of my upbringing, I don't even realize it when I am the only woman in the room until people point it out. After I started at Glenroy and gained respect from all the teams around me, being a woman has never been an advantage or disadvantage. Everyone has treated me with the utmost respect. We have a great culture with long tenured people, a lot of knowledge, and open to new ideas. Pretty unique.

What do you think are some of the key factors that have contributed to your success in the industry?
I think my success is based on a no-nonsense approach. I try to listen a lot to the experts around me and try to find gaps that we can tackle as a team. People usually know the answers for their problems and need their voices to be heard. I am not afraid to make changes and try new things. Especially in a nimble company such as Glenroy, you can be a driver for change and adjust quickly where necessary.
Success is when someone, or a team, feels empowered enough to initiate and finish a project on their own. Sometimes a change or project does not have the desired outcome, but you always learn from it. I try to instill that attitude with everyone around me.
Lastly, I firmly believe we need to have some fun and you cannot take yourself too seriously. We spend our most productive hours at work and having some fun creates a more positive and creative environment.
What can the industry do better to support women and increase the number of women in leadership positions?
It is not complicated. We need to reward and promote people based on work performance. Include women in the conversations, give them a voice at the table that makes the decisions, and you will see a stronger, bolder company arise.
It is also important to give women the tools to excel. I believe it's especially important for women in leadership positions to mentor and teach young women to pass down what they have learned.
What advice would you give to young women who are considering a career in packaging?
The packaging industry is a dynamic industry, changing quickly and adjusting to the new demands of our modern world. This is true for the packaging itself, as well as for the roles women play within this industry. At the last annual meeting of the Flexible Packaging Association, women were most of the speakers.
This is a very exciting time to be part of this wave and I encourage women to join the packaging world. Find a company that is a great fit, where you can grow and feel you make a difference. If your manager doesn't coach you, find a mentor. There are plenty of opportunities to have a fantastic career in the packaging industry.