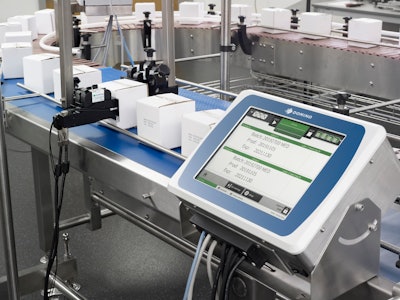 It will be one of the products featured at Domino's PACK EXPO Connects virtual booth.
"Today, more than ever, manufacturers need to be equipped to handle last minute changes to production schedules, including quick product changeovers, in order to satisfy demand,"  says Alexandros Mountis, TIJ Product Manager at Domino. "The Gx-Series has been designed with this level of agility in mind—to help manufacturers to keep pace with the pressures of a modern marketplace."
"Currently, key industries including food and beverage and pharmaceuticals are struggling with unprecedented levels of demand owing to the coronavirus pandemic," continues Mountis.
Domino's Gx-Series thermal inkjet (TIJ) printer is optimized for smart factory applications, providing manufacturers with a seamless, future-proof solution for evolving production processes. Gx-Series printers are easy to use and to integrate into existing manufacturing procedures, with enhanced connectivity and visibility features and a smaller overall footprint. Domino Cloud capability provides remote monitoring, while options for EtherCAT and PLC communications allow for fast data transfer and synchronization.
---
PACK EXPO Connects–November 9-13. Now more than ever, packaging and processing professionals need solutions for a rapidly changing world, and the power of the PACK EXPO brand delivers the decision makers you need to reach. Attendee registration is open now.
---
The Gx-Series printers are an ideal choice for printing high-density machine-readable codes, including Data Matrix codes, providing opportunities for enhanced product labelling and late stage customization within manufacturing operations. Advanced track trace and item-level serialization are available via Dynamark protocol, with coding in compliance with pharmaceutical regulations, including EU FMD and US DQSA, according to GS1 standards.
The printers are characterized by their ease of use, controlled via a modern, intuitive user interface and touch screen or remotely via web browser. Customers can select from one to four print heads, which can be stitched together to allow for print heights of up to 50.8mm, or used separately to print on multiple lines at speeds of up to 300m/min. The maintenance-free print heads are equipped with LED status signals to show which cartridges need changing, while Domino AutoSwap enables cartridges to be changed while printing, without interrupting production.

Companies in this article