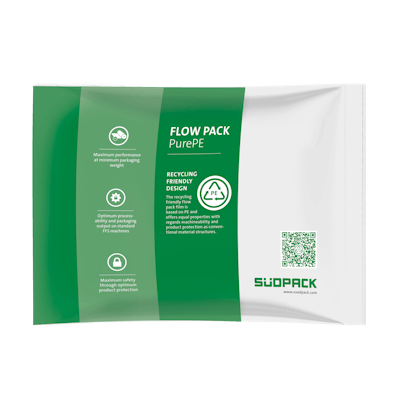 The sustainable pouch packaging concept PurePE will be showcased on SN Maschinenbau's FM 060 packaging machine. The intermittently operating rotary machine impresses with its reliable SN technology and stands for top performance, maximum flexibility and excellent packaging quality. The machine can produce three-side and four-side sealed pouches, bottom-gusseted pouches, Doypacks, and Deltapacks as well as contour and membrane pouches. The pouches are filled with products of varied consistency – such as beef jerky, dried sausages, grated cheese, spices, nuts, snacks, dry pet food or non-food products – using the appropriate dosing devices.
Südpack's PurePF film packaging concept is based on the polymer PE, which is classified in many countries as recyclable and is therefore of interest to customers that operate internationally. Just like all Südpack films, it is possible to equip the mono-material with different features based on the product to be packaged in order to ensure optimal product protection.
A further advantage of the PE-based packaging concept is the availability of compatible PE-based zipper systems on the market. As a result, the concept can be assessed as a true single-material solution and introduced into the appropriate recyclable material cycles. The zipper systems can be easily and reliably integrated into the flat pouches or Doypacks, making it convenient for consumers to open and reseal the package.
The fact that the recyclable monofilm can easily be processed on standard machines will be demonstrated at the SN Maschinenbau booth. Due to secure sealing and a large processing window, efficient packaging and rapid cycles are ensured on the high-performance FM 060.

Companies in this article