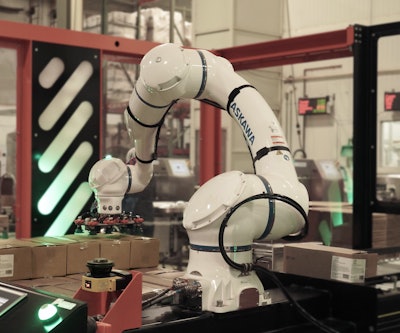 Built by Sourcelink Solutions, Formic's new palletizer further underlines its commitment to removing the barriers to automation so that small to mid-sized businesses can onboard the technology and thrive amid today's challenges.
The only palletizer on the market today that's available with all the benefits of Formic's pay-for-productivity model including guaranteed uptime and 24/7 service, the SL20 eliminates a packager's reliance on human labor to fulfill orders, reduces the overhead cost of retraining and injuries, increases quality and consistency of output, and enables automation without major changes to physical factory layout or introducing new complex processes.
SL20 palletizer key features include:
• Robotic palletizing system designed for end-of-line packaging processes
• Small footprint (10x12')
• Palletizes up to 20 cases/min
• Lifts up to 20kg per cycle
• Proven to safely work alongside people
• Deployable in less than 8 weeks
• Built by Sourcelink Solutions LLC, based around the Yaskawa HC Series collaborative robot
Formic is offering first-time customers a "no strings attached" 6-month trial for the SL20 palletizer.
Companies in this article