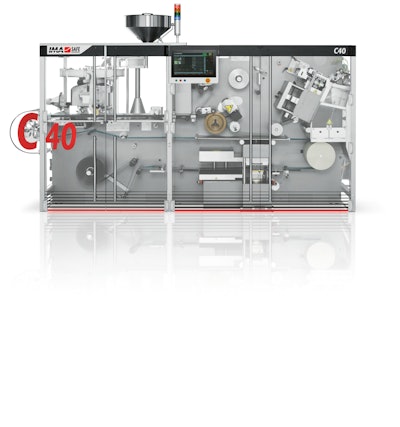 IMA's booth will be divided in two main areas, pharma and food. Featured will be IMA ZERO and IMA DIGITAL, which embodys IMA's commitment to sustainability and digitalization. The E-CO Flex1 the Pack Station of the Future for the E-commerce sector, designed by IMA in collaboration with Intertape Polymer Group® Inc. will also be showcased.
Machines from the pharma sector include:
• C40 blister packaging machine (shown)
• CPH2-RP4 case packer and palletizer
• Stick 360 PL4 vertical intermittent motion stick machine
• IMA Safe Comadis C1075 Automatic tubefiller
The food sector will feature:
• IMA Tea&Herbs CT11 Tea bag packaging
• IMA Coffee Petroncini TMR25 Roaster
• IMA Coffee Packaging SR6N Capsule filling and sealing
• IMA Ilapak CARRERA I-500 entry-level flow wrapper
• IMA Ilapak VEGATRONIC 6400 HD continuous vf/f/s hygienic machine.
• IMA Ilapak WA 16-50 multi-head weigher
• IMA Ilapak Delta 6000 R inverted flow wrapping platform
• IMA Delta Systems EAGLE flow wrapper and feeding system
• IMA Ilapak V3600 wicketed bagger
• IMA Hassia F600 Forming, filling and sealing of sachets
• IMA Intecma ZERO Technology punching tool
Also, IMA in collaboration with Intertape Polymer Group® Inc, (IPG) global leader of packaging and protective solutions, will introduce the E-CO Flex1 the Pack Station of the Future for the e-commerce sector.
IMA ZERO is the evolution of the IMA commitment to Sustainable Development. Its ultimate goal is minimizing environmental impact in industrial manufacturing and promoting a working habitat that always puts people at the center. At PACK EXPO, the focus will be on IMA NOP (No Plastic program) and a dedicated IMA OPENLab workstation.
IMA Digital and its staff will present the global project aimed at enhancing production and operational activities through a wide range of digital tools and virtual applications, starting with connected machines powered by artificial intelligence, and landing on APPs and devices for advanced maintenance and training. IMA offers a series of ancillary Digital Services and a wide range of solutions that integrate platforms and tools covering the needs of 360° Digital training.
Companies in this article