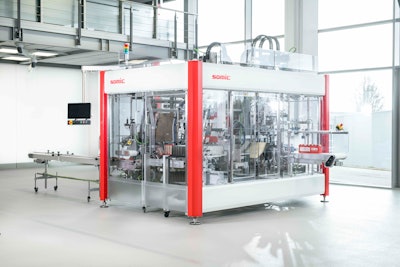 For SOMIC Packaging CEO Peter Fox, PACK EXPO represents an opportunity to show customers how the advantages of retail-ready automation with the latest technology available can address their needs.
"The fundamental driver to our growth is having the ability to configure our standard 424 machine platform to the unique needs of our customers. We're using standard functional groups to achieve these requirements, not a new, one-off design," he said.
"This gives our customers and us the flexibility to change for future needs. Our machines also can run standard case configurations to adapt to the demand for Retail-Ready systems. Besides showing people how this works at PACK EXPO, we've developed a new Buyers Guide that provides key information to begin this process. I think it will help open the door to conversations at the show."
The wraparound case packer that will be run in the Lakeside building at McCormick Place is a perfect example. It produces up to 25 cases/min, utilizing what Fox describes as the ultimate in space-saving simplicity and ensuring a smooth operation.
"That is what's remarkable about the 424 series. It can be adapted for any purpose including cartons, open or covered trays and lid inserts, and the compact design allows customers to make the most of their floor space. When you see up close how the engineering and technology work in tandem, it's a wonderfully efficient process that can't be matched in the marketplace."
Companies in this article