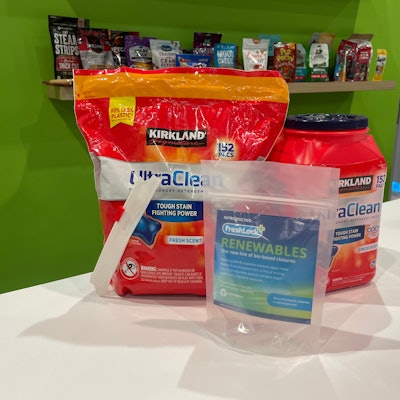 Accredo Packaging, a member of the API Group, and Presto Specialty Products, a business unit of Reynolds Consumer Products, came together to create the Child Guard flexible package for retailer Costco's signature Kirkland Ultra Clean laundry detergent in the midst of the COVID-19 pandemic, which won the 2023 Gold Sustainability award from the Flexible Packaging Association. At PACK EXPO Las Vegas 2023, the companies previewed a post-consumer recycled (PCR) edition of the Child Guard that has since launched.
The PCR Child Guard is made up of at least 25% PCR materials. The closure is opened by pressing down into a small notch with the mechanism. Pressing down on any other section of the zipper, the flexible pouch will remain closed.
"The level of recycled content inside the zipper helps to enable higher recycled content in the overall structure because it's all done by weight. We are really excited about the partnership with Presto on that specific and we've got some exciting things on the horizon," says Jonathan Quinn, vice president of marketing and sustainability at Accredo, a vertically integrated converter with a strong focus on sustainability.
Presto's Fresh-Lock+ is also releasing a new line of closures made from bio-based materials, originating from sugar cane, which absorbs carbon during its growth cycle. These closures can be processed and recycled in the recyclable recovery stream.
Both kinds of closures are conducive to contract manufacturing and packaging as they don't require expensive or intricate equipment to attach to the flexible pouches, according to Todd Meussling, senior manager in market development at Presto Specialty Products.
To Meussling and Quinn, the future of sustainability is found in partnerships.
"When you look at sustainability, and that overarching conversation about how are we going to enable a true circular economy, it's through partnership and collaboration, and Presto has been the evident and paramount depiction of what we need to enable sustainability," says Quinn.
Companies in this article