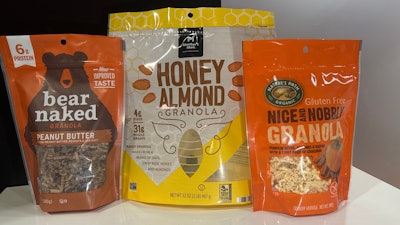 The packaging industry is in the midst of a significant transformation, driven by the growing demand for sustainable packaging solutions. One outgrowth of this evolution lies the utilization of biaxially oriented polyethylene (BOPE) materials.
TC Transcontinental Packaging invested $60 million to accelerate the commercialization of recyclable BOPE flexible plastic packaging through the development of cutting-edge mono-material providing high-performance and polyethylene films with more heat resistance. In addition to a new innovative film line that will produce BOPE, a first in North America expected to be operational in spring of 2024, the investment includes ancillary equipment and a 120,000 sq ft building expansion in TC Transcontinental Packaging's Spartanburg, South Carolina facility.
According to Josh Ball, director of innovation and sustainability platforms at TC Transcontinental, BOPE is emerging as a game-changer in the world of flexible packaging. Unlike traditional poly films, BOPE materials offer a unique set of properties that make them highly desirable for environmentally conscious brands. But what exactly sets BOPE apart?
"The orientation process in BOPE gives it physical properties that are hard to replicate with standard extrusion techniques," he says. The stretching during production results in enhanced strength, toughness, and tear resistance, making BOPE a versatile choice for a wide range of applications.
One of the driving forces behind the adoption of BOPE materials is their eco-friendliness. The issue of end-of-life disposal has long plagued the packaging industry. However, BOPE offers a solution by being easily recyclable. This is especially crucial in the U.S., where recycling infrastructure for films is lacking.
"Most of our current packaging solutions don't have a good end-of-life plan; they end up in the waste stream," Ball says. This is where BOPE comes in, aligning with the sustainability goals of brands. BOPE materials can be recycled through store drop-off programs, ensuring a second life for packaging materials.
The Store Drop-Off Paradigm
Currently, the store drop-off program remains the primary avenue for recycling PE film, including BOPE materials. Industry experts acknowledge that the adoption of this program has been slow, but it remains a significant part of the recycling landscape.
"Store drop-off is the platform for PE film recycling right now," Ball says. While there are efforts to explore other collection methods, such as regional initiatives and chemical recycling, store drop-off remains the dominant player.
Industry Collaboration and Pre-Approvals
To bolster the recycling ecosystem, collaboration between packaging companies and organizations like the Association of Plastic Recyclers (APR) is essential. Companies like TC Transcontinental are actively engaged with APR's Films Committee, working towards expanding recycling opportunities.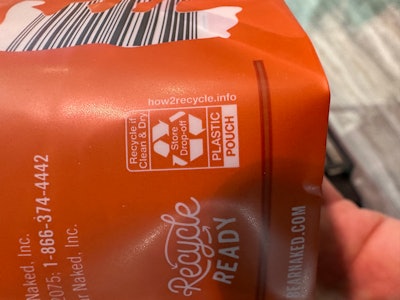 "We're striving to make PE film recycling a broader platform accessible to more people," Ball says. By adhering to APR guidelines and securing pre-approvals from How2Recycle, TC Transcontinental and other forward-thinking companies are paving the way for recyclable packaging solutions.
"The market today is ripe for the taking, in PE monomaterial solutions," Ball says. "We feel like BOPE offers us the best ability to convert our customers out of our standard, non-recyclable solutions, into a monomaterial recyclable flexible pack."
Notably, increasing the North America supply of recyclable PE also will increase the supply of available recycled PE as feedstock. Ultimately, this helps to feed demand for post-consumer recycled (PCR), like TC Transcontinental's vieVERTe line. This sustainable product portfolio leverages the benefits of flexible packaging, such as extending shelf life, reducing food waste, and providing product protection, while reducing its environmental footprint. vieVERTe includes packaging solutions that are recyclable, compostable, and made from PCR content. Virgin BOPE production is a spring of content that should be recoverable and reusable as PCR in the same packaging applications that virgin BOPE was initially used in, strengthening circularity.
Real-World Applications
BOPE materials have already found their place in a myriad of packaging applications. In dairy packaging, BOPE is used for products like shredded cheese packages, serving as the primary packaging material. This versatile material is also employed in overwraps for multi-pack bundles, offering strength and sustainability in a single package.
Brands like Kellogg's are leading the way by incorporating BOPE materials into their packaging, showcasing the How2Recycle symbol, and encouraging consumers to use store drop-off. TC Transcontinental, along with other converters, is actively working with such brands to provide sustainable packaging solutions that meet consumer demands.
The Future of Packaging
As the packaging industry marches forward in pursuit of sustainability, BOPE materials are poised to play a pivotal role. With their unique properties and recyclability, BOPE materials offer a sustainable alternative that resonates with eco-conscious consumers and brands.
The industry's continued collaboration with organizations like APR, coupled with innovative solutions from companies like TC Transcontinental, is set to accelerate the adoption of BOPE materials and drive the transformation towards a more sustainable packaging landscape.
Recyclable monomatierials like BOPE, when imbued with barrier properties, represent a significant step forward in the packaging industry's journey towards sustainability. While challenges remain, the commitment to creating a circular economy for packaging materials is unwavering, and BOPE is at the forefront of this movement. PW
Companies in this article