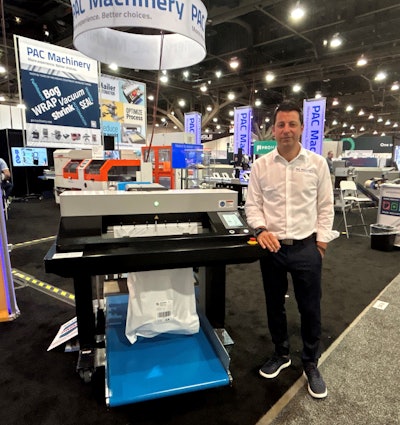 For e-commerce and fulfillment center packaging operations that increasingly have concepts like sustainability, efficiency, and reducing scrap waste on their minds, PACK EXPO Las Vegas offered new solutions that pair operational flexibility with sustainable approaches.
In addition to its new paper bag flow wrapper, PAC Machinery highlighted bagging systems designed for the ever-changing e-commerce landscape that has merchants searching for versatile solutions.
"Everyone talks about sustainability, but what they really want is flexible sustainability," says Greg Berguig, Vice President at PAC Machinery. "So they want investments in equipment that are going to be flexible because they don't know the material that the marketing team is going to want to run in the future."
One example of such a flexible system is PAC's Rollbag® R3200 Fulfillment automatic bagger, which runs paper and poly materials. Also at the booth, PAC Machinery spotlighted the new version of the Rollbag R3200 XL, which can customize the bag's size according to the item being packaged. Catering to diverse products, it efficiently handles diverse bag lengths, providing options for both long and shorter packages on the same machine.
Because the unit features poly tubing rather than pre-made bags, it lets the user adjust bag length on the fly, resulting in less material waste and delivering a lower total packaging cost, says Berguig.
"With the same machine, you can right-size the bagging material so that you're using less material," says Berguig.