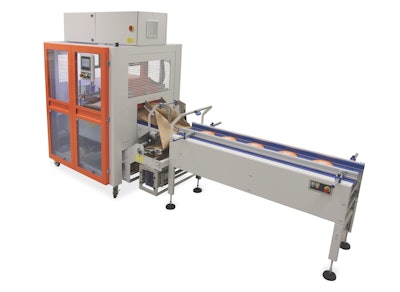 Making its official debut at the PAC Machinery Booth C-2418 was a flow wrapper capable of running curbside recyclable paper. The FW 650SI Servo Box Motion Inverted Flow Wrapper makes bags to product length at high speeds and can accommodate products up to 12 in. wide or 8 in. high. According to PAC vice president Greg Berguig, the wrapper runs up to about 80/min with film or 30/min with paper. It also incorporates a thermal transfer printer for printing directly on the package or on a label. Berguig adds that the system is especially suitable for apparel and other soft, delicate products.
"It's easy to underestimate how challenging it is to go from plastic film to paper on a flow wrap operation," says Berguig. "There are so many different grades and thicknesses of paper. Also, how extensible is the paper? Does it have a PE coating or some type of heat-sealable coating? Let's just say it's been quite a learning process. We've been working on getting the paper right for some time now. It's a curbside recyclable paper, but it's important to point out that the machine can run film or paper. We feel that flexibility is terribly important from the customer's point of view. They want to future-proof their machinery investments."
Berguig chooses not to identify the source of the proprietary heat-activated coating that goes on the paper, which, during demonstrations at PACK EXPO Las Vegas, was a 55-lb virgin material. He acknowledges that using it instead of film is a more costly proposition. That's largely why, when a customer chooses to go with paper rather than film for flow wrapping, the decision is not made at the operations or procurement level but more typically in the C suite, notes Berguig.
Go to pwgo.to/8092 to see a video of the FW 650SI Servo Box Motion Inverted Flow Wrapper in action.
Companies in this article