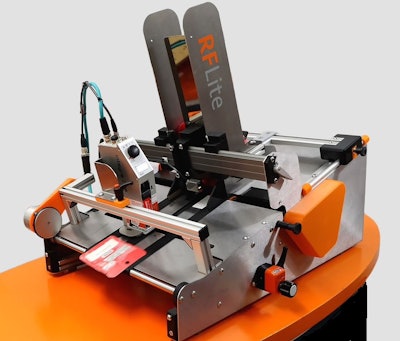 PACK EXPO Las Vegas was the platform for AT Information Products (AT INFO) to introduce its new RF Lite Pouch, an automated system designed for coding flat-form bags and pouches. This system employs vacuum technology to align packaging for coding by the Markoprint industrial coder.
A Growing Need for Versatile Coding Solutions
The rise in the use of flexible packaging materials is prompting the industry to search for adaptable, efficient, and economical coding methods. Challenges arise when coding on-line, especially on pre-made pouches or filled packs. AT INFO's RF Lite Pouch serves as an off-line alternative.
The RF Lite Pouch System is a compact, bench-top system that employs vacuum picking system and belt drive for smooth movement. It's designed with a top-loading hopper to sustain throughput. the system also features an outfeed catcher tray for coded pouches. It accepts packaging substrates of varied sizes and materials, too-- compatible materials encompass plastic, mylar, and paper. The system's feeder can handle sizes ranging from 3-in. by 3-in. to 10-in. by 6-in. Compatible with both Thermal Inkjet and Piezo Inkjet, the printer can produce alphanumeric text, GS1 identifiers, and regulatory compliant graphics.
Distinguishing Feature: Vacuum Feeding Technology
According to the company, typical feeders deploy friction rollers to move substrate from a hopper to a belt, which proves efficient for uniformly thick pouches. However, flexible materials or those with resealable features pose challenges in accuracy. By employing vacuum technology, the RF Lite Pouch ensures consistent and reliable feeding.
Intended Applications
Companies looking to print high-resolution codes on flat packaging materials could find AT INFO's systems beneficial. Industries that might benefit from the RF Lite Pouch include Food & Beverage, Cannabis, Personal Care, and Pet products. As there's a growing shift from labeling to direct coding, the RF Lite Pouch offers a solution that may potentially reduce costs associated with labeling.
Companies in this article