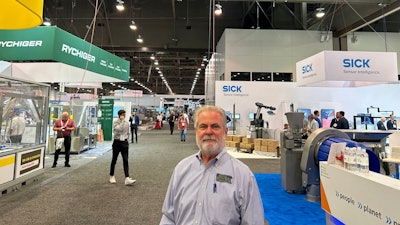 Transcript of audio
Hello, Pat Reynolds here on the last day of PACK EXPO Las Vegas 2023, with a look at a few more things that caught my attention during this terrific exhibition.
We begin on the container-making side of the business and a fiber-based bottle now being developed for product categories including beverage, beauty, health, medicine, and food. It was on display at Booth 9141 in the North Hall, and behind it are two firms with considerable experience in sustainable materials.
One is molded fiber packaging producer RyPax, which specializes in high-end trays and other packages for electronics, pharmaceuticals, and health and beauty products. The other is CelluComp, whose proprietary microfibrillated cellulose product known as CurranÒ is made from the waste stream of root vegetables, primarily sugar beets. The two firms are developing a molded fiber bottle made of curran, bagasse, and bamboo.
The Curran in the fiber brings added structural integrity. But just as important, its inclusion means that the interior surface is optimized for application of a coating. And the coating isn't just any coating. It's a thin, impermeable coating specially developed by CelluComp called Reef, and once again it includes Curran. So it's a matter of molding a fiber bottle that is strong and has minimal porosity and then making it even stronger and even further reducing porosity by giving it a unique inner coating incorporating Curran—a coating that won't interfere with recyclability or biodegradability the way an inner plastic liner does. Both RyPax and CelluComp emphasized at PACK EXPO that what they hope to do is push the packaging community forward by combining precision plant-based packaging production with a highly renewable feed stock ingredient to crack the code on the all-fiber bottle. The partnership is poised to scale production for industry applications to help brand owners reduce waste and meet consumer, government, and their own sustainability goals. Worth noting is that a threaded aluminum closure was used on the prototype bottle shown at PACK EXPO.
Moving forward, RyPax and CelluComp will in close collaboration with Danish Technology Institute explore additional fiber packaging solutions including fiber screw threads, caps, and even thinner coatings. When asked if the all-fiber bottle will be able to hold carbonated beverages, CelluComp CEO Christian Kemp-Griffin said no. He added that the Danish Technology Institute, which has been an active participant in this whole development process, is still in the process of testing to determine what the Oxygen Transmission Rate of the bottle will be. In the meantime, says Alexander Bardenstein, business development manager at the Danish Technology Institute, this collaboration is genuine cause for excitement.
"The RyPax/CelluComp bottle has been through all of our comprehensive testing," notes Bardenstein, "to earn our endorsement and allow them to start tailoring this technology for the global marketplace."