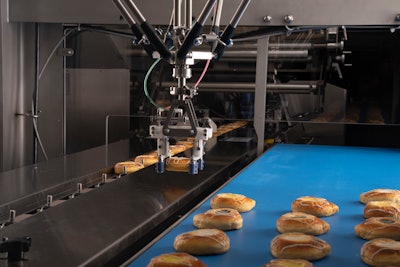 The Formost Fuji Booth C-4000 at PACK EXPO Las Vegas was notable for, among other things, the extent to which equipment from other packaging machinery OEMs was represented. In one such system, a JLS Talon pick-and-place robot was picking flatbread products one at a time and stacking them on a conveyor leading into a Formost Fuji FW3410 Alpha 8 Flow Wrapper. Also integrated was a Sealstrip FreshPak applicator for inline application of the Sealstrip reclosure feature and a Markem Imaje SmartDate X65 thermal transfer printer for date coding.
Formost Fuji president Dennis Gunnell indicates that while he and his team have worked with JLS and Sealstrip and Markem in the past, this represents the first time that all three have been integrated into a single Formost Fuji system. One nice bit of engineering on the line, notes Gunnell, is the way that Sealstrip was able to use the same mounting hardware on the top of the wrapper that the Markem printer is using. This brings not only an element of simplicity to the table, it also means the machine footprint didn't need to grow unnecessarily.
Elsewhere in the booth was a Yamato TSD-N3 semiautomatic tabletop Dataweigh scale feeding zucchini into a Formost Fuji FW3410BS/VXII Flow Wrapper. The 14-bucket combination scale was being manually fed by two operators and then picking the best combination of buckets to drop into a chute that emptied onto a conveyor leading into the flow wrapper.
Companies in this article