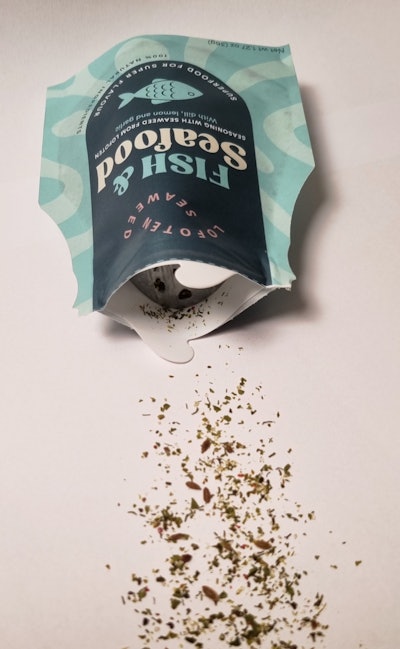 Alliedflex Technologies used PACK EXPO Las Vegas to introduce the Push & Dose Sprinkle Pouch system to the North American market. Developed and patented by Norway's Fimtech, the concept has been in commercial use in Europe for several years. Norway's Lofoten Seaweed, for example, sells a variety of its dried seaweed products in the pouch (photo shown here).
Recently Fimtech and HDG, the German maker of horizontal form/fill/seal systems, struck a licensing agreement naming HDG as the exclusive maker of machinery designed to make Push & Dose pouches from rollstock. As the distributor of HDG equipment in North America, Alliedflex is able to offer the Push & Dose concept in the North American market.
Push & Dose is a standup pouch with a perforated tear-off top that holds 1 to 3 oz of product depending on product density. It lets users release sprinkles or spices or fish food or just about any other flake-type product by simply inverting the pouch and squeezing the top two corners toward the center. Inside the pouch is a food-grade silicone membrane heat sealed to the pouch material much like a roll-fed zipper reclosure feature is applied to a stand-up pouch. Die-cut into this membrane are slits that widen into holes when you squeeze the top, thus releasing product. The holes narrow back down to slits when the consumer stops squeezing, plus a pair of "wings" that overlap each other serve to close the pouch with the help of the spring tension of the pouch.
At Alliedflex's Booth SL5931, two different pouch-making systems were on display. For brand owners or contract packagers with high-volume requirements, a hf/f/s system from RDG was busy cranking out Push & Dose Sprinkle Pouches from rollstock at speeds to 50 pouches/min. But also on display was the Alliedflex FLX Alpha, which fills and seals pre-made pouches at considerably slower speeds. "The idea was to have not only the high-speed machine but also have something for firms looking to try something small scale before investing hundreds of thousands of dollars on a rollstock machine," says Alliedflex president and CEO Dennis Calamusa. "We're looking to collaborate with a number of converters in North America who can provide these pre-made pouches under some sort of licensing agreement."
As with any flexible packaging format, says Calamusa, Push & Dose has a number of advantages over the plastic or glass rigid containers it stands to replace. No labels need be added to printed film, nor is a closure required. Not to mention the distribution, warehousing, fuel costs, and overall logistical costs that are inherent in getting rigid containers through the supply chain.
"Will this totally replace packaging formats currently in use?" asks Calamusa. "Of course not. But it is something new, a way of presenting a product in a different way, of giving the consumer a choice."
Go to pwgo.to/8091 to view a Push & Dose Sprinkling Pouch video.
Companies in this article