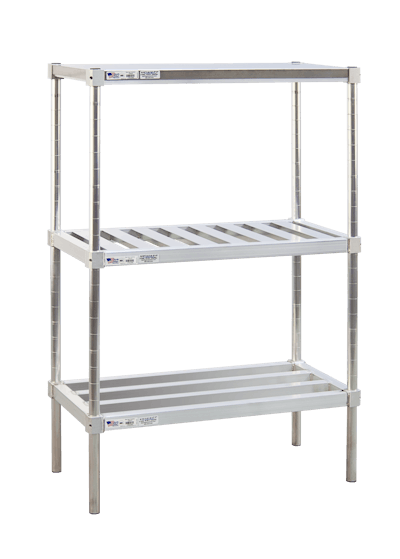 This content was written and submitted by the supplier. It has only been modified to comply with this publication's space and style.
New Age Industrial adjustable shelving is shipped knocked down and assembled by the end user in just minutes by using one tool, an Allen wrench provided with the order.
Different types of shelves can be mixed and matched to fit individual needs. As its name suggests, the shelf placement can be set and adjusted at any time. One unit might contain an HD shelf on the bottom, a T-bar shelf in the middle and a solid shelf on the top while others have only one shelf type throughout. Adjustable shelving ranges in length from 30 in. to 96 in. and has a weight capacity of 400 to 2,000 lb. Depths are available from 15 in. to 30.
The Heavy duty shelves are the most vital adjustable shelf type we offer, featuring thick slats that run lengthwise across the shelf. They offer the highest weight capacity of the New Age Industrial adjustable shelving line. With a weight capacity of up to 2000 lb per shelf, they accommodate even the heaviest loads. An economical version of the HD style shelves is available and features the same general design. Each shelf can handle loads of up to 1100 lb. They are designed for large items or bulk storage and are typically used as the bottom shelf.
The T-Bar shelves consist of flat slats on top with a t-shape for strength. The runners span from front to back across the depth of the shelf. They provide a smooth, flat surface to slide boxes on and off that is easy to clean. The slats let air circulate around items, even in walk-in cooler environments, so they are excellent for perishables. Each shelf has a weight capacity of 1500 lb. The economy version T-Bar style shelves features larger gaps between the slats with a weight capacity of 900 lb. T-Bar Shelves are designed to hold small items and storage containers.
There are also two common solid shelf-type options that are great for individual loose items. Solid shelving features a marine edge that contains moisture from spills. Our solid shelves are utilized for small packages and lightweight items. Each shelf offers a 400 lb weight capacity. This shelf type is great for storing products that are prone to leaking since they feature a marine edge. This creates a lip that helps to contain small drips and leaks. The solid sheet is not removable on this shelf type.
The Solid Brute shelves have a removable solid top (that nests over a frame) for items to slide across effortlessly when loading or unloading. This solid top accommodates your smallest packages or loose items, and it is easily removed for cleaning or replacement. An advantage of this shelf type is that the top can be removed and cleaned separately from the shelving unit rather than cleaning it inside your storage room or cooler/freezer. The shelves hold up to 800 lb apiece.
Adjustable shelving is easily made mobile with stem casters. These casters can be added to any of our adjustable shelving units and are simple to install, sliding right inside the bottom of the shelving posts. This is a great option for storage that needs to be frequently reconfigured or for an easy, picking cart solution. Also, there are a variety of optional accessories that can be added on.
Adjustable feet allow for minor height adjustments and easy leveling. Floor post brackets attach to the bottom of the posts and can be bolted to the floor. Wall mount brackets are u-shaped metal brackets used to secure shelving units to a wall. Pole clips are designed to connect two shelving units with one set of common uprights.
Companies in this article