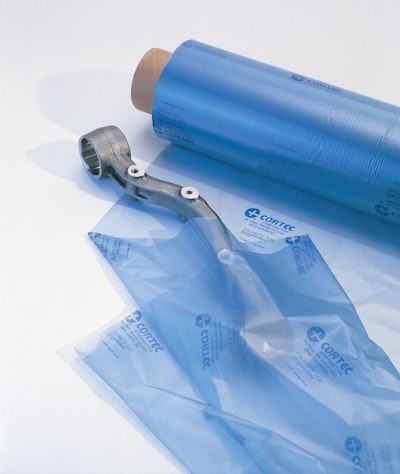 This content was written and submitted by the supplier. It has only been modified to comply with this publication's space and style.
Cortec's VpCI®-126 PCR film will help its customers meet their sustainability goals without compromising quality specifications related to mechanical and corrosion inhibiting properties. It combines the latest film technology with effective corrosion protection for all metal products.
VpCI®-126 PCR is the latest addition to Cortec's palette of environmentally responsible products, contributing to the circular economy model by promoting recycling and the reuse of resources. Circular economy aside, VpCI®-126 PCR offers excellent performance, protecting metal parts from all types of corrosion, including rust, stains, tarnish, white rust, and oxidation for up to 5 years.* Metal parts packaged in Cortec® VpCI®-126 PCR receive continuous protection from salt, excessive moisture, condensation, aggressive industrial atmospheres, and dissimilar metal corrosion.
Vapor phase corrosion inhibitors in the film evaporate and then condense on metal surfaces inside the enclosed package, reaching every area of your part and protecting its exterior as well as hard-to-reach interior surfaces. Cortec's customers receive full product protection during storage as well as during domestic and international shipments. The film provides multi-metal protection to ferrous and non-ferrous metals.
Cortec® VpCI®-126 PCR is heat-sealable and can be used with all types of manual or automated heat-seal packaging equipment. The material is available in a variety of standard and customized forms including bags, sheeting-reinforced film, top-seal and auto bags, gusseted liners, bags-on-a-roll, perforated sheeting, coil covers, and tubing to protect small or large parts. The film is available in a variety of gauges ranging from 50-250 microns (2 to 10 mils) and widths from 76 mm-9.7 m (3" to 32').
*Depending on film construction thickness and application.
Companies in this article