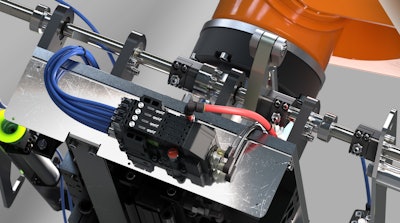 Piab's piCOMPACT 10X comes with integrated controls such as on/off valve, blow-off valve, vacuum switch, and energy-saving function, and is built on a configurable platform, making it easy to customize. The upgraded SMART version piCOMPACT 10X SMART also includes smart features that enable predictive maintenance in addition to special preventive features like Leakage Warning, Performance Monitoring Timers, and Vacuum Cycle Counter.
piCOMPACT 10X SMART is perfect for advanced packaging applications within industries such as pharma and electronics, helping producers to quickly and easily realize complex, yet tidy, smart systems.
Key features include:
• A configurable vacuum ejector based on COAX technology with integrated controls, providing a highly energy efficient and reliable vacuum flow.
• IO-Link technology offers simplified and cheaper installation with easy set-up and less cabling.
• Performance and process data from sensors in, for instance, pumps can be monitored in real time using the IO-Link interface.
• Stackable (manifold mounted) units of between 3 and 8 ejectors share a common IO
• Link interface, as well as port and exhaust for compressed air, enabling easy cabling and tubing.
• Specialized software packages and application examples are available from Piab with add-on instructions and libraries of data sets for PLC programming in robots from market-leading brands.
Companies in this article