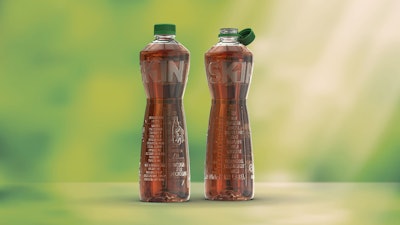 The bottle is designed for the growing market in sensitive juices, teas, and flavored drinks. Combining distinctive shelf-appeal with the highest eco credentials, it has been designed to help Sidel's customers achieve their sustainability goals and drive sales of high-end products.
Made with readily available 100% recycled PET (r-PET), 1SKIN was designed by Sidel for easy recycling. The label-free bottle with its tethered cap can immediately enter the recycling stream with no need to separate additional raw materials such as ink, glue, labels or sleeves. Customers choosing Sidel's1SKIN bottle will stay ahead of the main worldwide regulations and market trends for sustainable packaging.
The 1SKIN bottle features an ergonomic grip for comfortable pouring. It has a wide neck and a cap lock feature to keep the open bottle top away from the consumer's face. On the bottle's label-free surface there are multiple options to use differing fonts and textures, with the transparency enabling great opportunities for natural light and shadow play. The ultra-precise graphic elements are created using Sidel's most advanced mold technologies combined with its blow molding expertise. QR or bar codes can be printed on the bottle closure to provide information to consumers or enable individual unit sales.
The bottle design guarantees safety and protects the integrity of products with a long shelf life. Sidel's patented Starlite™ Sensitive base technology combines a premium glass-like design with optimized weight and performance on high-speed lines.
Sidel can include the 1SKIN solution in new equipment, or add it to existing lines using its dedicated line conversion services. The line equipment is adapted accordingly, ensuring a quick and efficient start-up. The bottle's optimized neck requires less raw materials and so can also reduce production costs.
Companies in this article