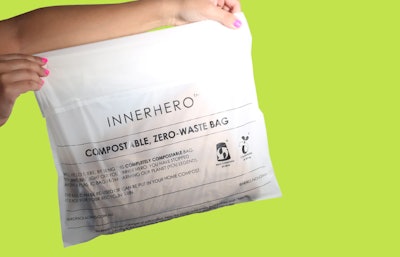 Aquahero has the same look, strength, and functions as its plastic version and is designed to provide fashion brands and retailers with an eco-friendly and affordable alternative to reusable, non-biodegradable plastic bags.
and can be completely dissolved in boiling water within 30 sec.
"Our core vision has always been about being zero-waste and completely plastic-free in our supply chains and retail distribution," explains co-founder Anaita Sarkar. "Through innovative technology and sheer persistence, we've proven it is possible and business savvy to switch from plastic, and our latest product is proof of this."
Hero Packaging's Aquahero water-soluble garment bags are manufactured in Malaysia using plant-based PLA (polylactic acid), a certified compostable material PBAT (cornstarch and bonding agents), and water-based inks from Germany. It comes in two different sizes and is strong enough to be reused if required, stated the company.
"We feel fortunate to be able to do a business out of our passion," said Vikram Dave, Co-Founder, and COO of Hero Packaging.
"Going plastic-free shouldn't cost businesses, and change doesn't have to be a huge commitment. Instead, we can collectively change the world if we all resolve to make one small but positive switch."
Companies in this article