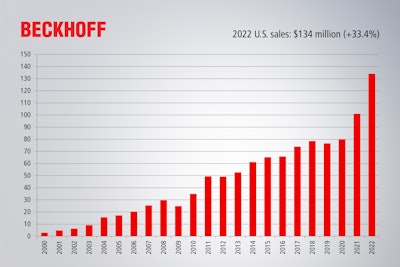 This content was written and submitted by the supplier. It has only been modified to comply with this publication's space and style.
Beckhoff's strategic growth goes beyond the its sales figures – it crossed over into company footprint expansions and growing the U.S. team to 218 employees. President Kevin Barker attributes the successes to the growing awareness of PC-based automation benefits among technology leaders and continued digital transformation efforts at Beckhoff USA.
"We work side by side with the world's leaders in electric vehicles, space exploration, sustainable energy, life sciences, and other emerging high-tech industries. Our team of experienced engineers – combined with innovative new technologies – continues to be a critical enabler for the engineering teams at these visionary companies, empowering them to move faster and do more," Barker said. "So we are seeing a decisive shift toward open, adaptive automation technologies that harmonize IT and OT. Beckhoff has been a leader in this trend for decades, so we don't have to reinvent ourselves as innovative and disruptive. That's just who we are."
Beckhoff has already helped transform many of its customers' businesses by implementing adaptive automation technologies in the field. Numerous adaptive manufacturing applications featuring the XPlanar flying motion system and the eXtended Transport System (XTS) took shape throughout the U.S. in 2022. The announcement of emerging technologies like the MX-System for cabinetless machine design and the new modular robot ATRO confirms Beckhoff's relentless commitment to innovation and delivering cutting-edge automation technology.
Beckhoff USA continues the charge to deliver exceptional customer experiences by focusing on a strategic digital transformation. The company has invested in new business software and systems to enhance all areas, from sales and marketing to operations and customer support. Installation of a new automated storage and retrieval system (AS/RS), which began in late 2022, will further shorten lead and shipping times upon completion in mid-2023. Beckhoff achieved a 50% increase in local inventory in 2022 to buffer global supply chain challenges and is working to add another 50% increase in 2023
"As an organization, doubling every three years is a huge challenge. However, we have the ability to think long-term and make the investments we need to not only sustain that growth but to accelerate it," Barker said. "People are at the heart of what we do. By investing in great people and giving them the tools, support and freedom they need to be successful, we can meet that challenge.
"While there will continue to be global economic forces we can't control, we can absolutely control how we prepare for uncertainty and respond to opportunities," he added.
Dedicated to mentoring and empowering young engineers, Beckhoff USA expanded its internship offering and doubled the program in 2022. After the program, Beckhoff hired 66% of the interns. This trend will continue as the company again doubles the number of interns in the program for 2023. The Associate Application Consultant position is another exciting opportunity launching at Beckhoff USA this year. As a part of this new program, recently graduated engineers will learn on the job and take on challenges in multiple departments at the automation leader's offices across the U.S.
Companies in this article