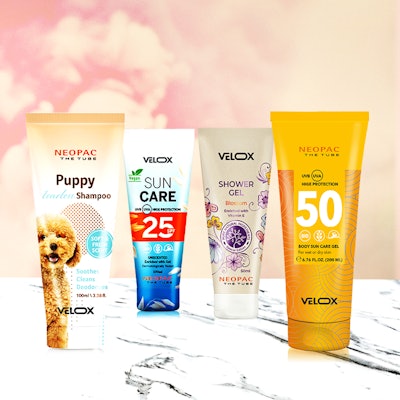 The Velox IDS-PT™ Series system allows for printing on virtually any type of tube material, including Hoffmann Neopac's signature Polyfoil® tubes, and eco-design substrates such as Polyfoil® MMB tubes, PCR tubes, sugarcane resin tubes, PE mono-material, and uneven surfaces such as the company's PICEA™ wood tubes. It has an inline speed of up to 250 tubes/min.
With Velox's direct-to-shape digital technology, Hoffmann Neopac can offer an extended range of colors, including cap printing and 360-degree seamless decoration. Additionally, the technology allows for selective matte/gloss effects, smooth gradients, and opaque white for printing on a darker tube body.
The company has also optimized the sample process, which allows customers to validate the product before it is produced.
In addition to the Velox system's eco-friendly high-definition digital printing quality, Hoffmann Neopac has made other significant strides toward more sustainable production as well. Last year it installed solar power panels on its plant in Debrecen, Hungary. Among other infrastructure, the panels are used to power the Velox machine.
"We are now at the stage where this new technology can be incorporated into inline tube production, leading to extremely high decoration speed on the largest diameter and length tubes, and making it possible to print varying references," says Michael Wagner, COO of Hoffmann Neopac. "With this combination of cutting-edge technology and sustainable practices, Hoffmann Neopac is well-positioned to meet the evolving needs of the packaging industry while minimizing environmental impact."
Companies in this article