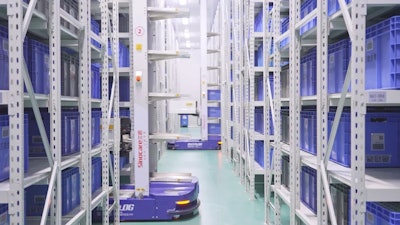 Sinocare, Asia's largest blood glucose meters manufacturer, recently joined forces with Hai Robotics to implement a complete set of Autonomous Case-handling Robot (ACR) systems into its warehouse in Changsha, China.
Hai Robotics, the pioneer in autonomous case-handling robot (ACR) systems for warehouse logistics, provided a deeper intelligent technology integration and development of in-plant logistics in the healthcare facility, delivering higher workflow efficiency rates and lower labor costs. Li Zhi, Senior Manager of Sinocare's Engineering Department, said, "The strategy of digitized and intelligent supply chain transformation, with the ACR systems' help, will continuously foster Sinocare's business growth now and far into the future."
To meet the high demands of Sinocare's flexible production line, Hai Robotics' custom ACR solution was implemented to manage the movements of semi-finished products as part of the manufacturing process and in storage. The ACR system fully integrated with Sinocare's existing Manufacturing Execution System, helping to provide whole-process digitization of goods management. This integration now allows operators to easily and accurately manage inventory, monitor the handling of products, and track the movements of inbound and outbound goods. As a result, Sinocare was able to achieve significant advancements in intelligent warehousing and intelligent manufacturing collaboration.
Sinocare's Changsha warehouse storing semi-finished products covers an area of about 3,280 sq ft, and there was a need to store more goods while staying within the same storage footprint. By implementing Hai Robotics' high-density ACR system, Sinocare was able to increase their storage capacity from 7,500 totes to 12,000 totes. This increased the average storage density to about 13 totes per square meter.
Hai Robotics' ACR solution was able to achieve these metrics and enhance storage density largely due to 2 key contributors. The first, Hai Robotics' ACRs are able to operate in tight spaces, most importantly in aisles under 1.2 meters (4 feet) wide. The second, 2 totes can be placed one in front of the other on a shelf and two shelves placed back-to-back, effectively realizing double-deep shelving and reducing the total number of aisles and creating a high-density storage unit that is 4 totes deep and accessible from 2 sides. These shelving units were then stacked to about 14.5 ft throughout the warehouse.
Traditional warehouse management relies heavily on manual labor, which presents many challenges regarding availability, costs, and efficiencies. While other companies are gaining ground with the use of efficient automation. For facilities that still operate manually, normal human error, slow and low-efficiency operations, and natural physical limitations often result in a delay in facility maintenance, expired storage, and failure to replenish parts in a timely manner when inventory is low. These issues can create major problems for operations. Sinocare recognized the need to automate to enhance the productivity of their workers and maximized workflow efficiency.
Sinocare's Changsha warehouse was able to double its per-worker efficiency rate with the implementation of whole-process automated storage and handling of totes containing their semi-finish products, while reducing the strain of previously laborious tasks. When inbound goods are received, a robotic arm grabs the loaded totes and places them on a conveyor belt. Hai Robotics' Autonomous Case-handling Robots then retrieve the totes and deliver them to appropriate locations on shelves in the high-density storage area. When it is time for goods to move out of storage, Hai Robotics' ACR retrieves the tote from storage and transports it to a temporary storage shelf where an AGV then brings the goods to a production line. The automated solution also helps to create a better work environment for people. Operators can now track and manage the system from a dashboard without strenuous work.
Companies in this article