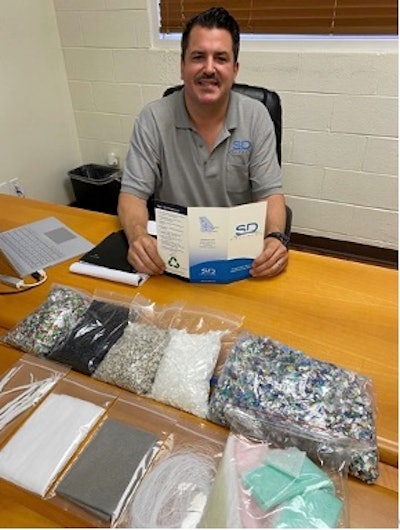 What this basically means is that all materials live within a system that recovers and reuses the materials it expends. However, according to a 2022 Circularity Gap report, only 8.6% of the global economy is circular.
Then the question becomes, what is the level of recyclability? To become truly circular, new technologies are still needed. And manufacturers will not be able to shoulder the burden alone. Consumers must join in as well in order to create a circular plastics economy
SD Polymers sees its equipment expansion, quality control and employee training capabilities, along with meeting industry challenges, as central to its business plan.
For the nearly 25 years, SD Polymers, an expanding plastics recycler, custom and toll compounder is passionate about recycling, perhaps significantly more than half the battle in facing challenges. This is indicative by the company's testing capabilities, its employee training and support culture, and approach to meeting current industry challenges.
Family owned since 1998, the Macon, Ga., company specializes in plastic extrusion, industrial rubber recycling and roll converting services for the U.S. southeast region. According to managing director Stefano Danese, the company is committed to finding innovative, sustainable solutions for their customers to save time and money, increase efficiency and reduce their carbon footprint while improving their bottom line.
Asked what are some of the key challenges the company has been facing, not surprisingly, Danese lists ongoing monthly price swings, inflationary pressure, and logistic pains. He says, the company has aimed to address these challenges by planning as early as possible to get in front of the logistics issues and building up adequate raw material and finished product stock to ensure a safety reserve. "Having a certain amount of material in warehouse allows us to absorb up and down frequent price hikes better."
The company sees the business case for reshoring as very strong. Danese notes that the main drivers of the reshoring trend include rising offshore wage rates, the use of the refined metrics of total cost of ownership to uncover the hidden costs and risks of offshoring and reducing costs with sustainable strategies such as improved product design, innovation, automation, and lean strategies.
"In many cases, companies find that, although the production cost is lower offshore, the total cost is higher, making it a good economic decision to reshore manufacturing back to the U.S.," he says.
Companies in this article