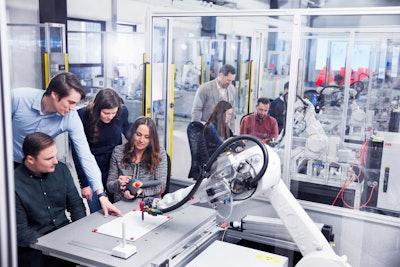 This content was written and submitted by the supplier. It has only been modified to comply with this publication's space and style.
"The world is constantly evolving - businesses are shifting existing structures and adopting new technologies to future-proof their operations for a variety of challenges and uncertainties, with robotic automation playing a key role," said Sami Atiya, President of ABB's Robotics & Discrete Automation Business. "We need significant investment in continuous education to prepare our existing and future workforce to thrive in an age of robotics and automation, important not only to prepare for the widespread shifts we are seeing, but to create prosperous societies going forward."
ABB's 2022 survey of U.S. and European business leaders revealed that 74% of European and 70% of U.S. businesses are planning to re- or nearshore operations to build their supply chain resilience in response to labor shortages, the need for a more sustainable global footprint and global uncertainty.
The majority of these businesses view automation as the enabler of these shifts, with 75% of European and 62% of U.S. businesses surveyed planning to invest in robotics and automation in the next three years to facilitate this shift in operations.
Despite this appetite for automation, ABB's 2022 global education survey found a significant gap in the education and training needed to ensure the skills necessary for work in the increasingly connected and automated workplaces of the future. Of the global education professionals surveyed, 80% believe robotics and automation will shape the future of employment in the next ten years, while only one in four education institutions currently use robots as part of their teaching programs.
To help bridge the skills gap, ABB has bolstered its global Robotics and Automation education program with new training centers, including its EUR 100m global innovation and training campus in Austria. The new site, along with other new regional training centres in the UK, Berlin, and Brazil expands ABB's training facilities to over 40 sites globally, educating more than 30,000 students from schools, colleges, and universities, as well as apprentices and workers each year.
The sites add to ABB's existing educational offering, which consists of software packages, including ABB's Wizard Easy programming, RobotStudio® and RobotStudio® AR Viewer App, as well as hardware in the form of collaborative robot cells and application packages. Through more than 100 global partnerships with schools and universities, ABB generates curriculum materials with education providers to help educate future generations and prepare them the jobs of tomorrow.
Companies in this article