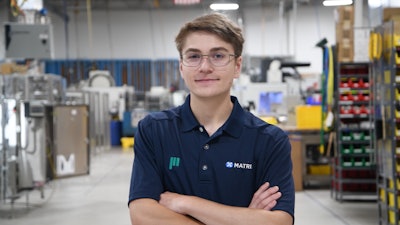 Kurten, who is entering his senior year at Cedarburg High School in Cedarburg, Wis., is learning hands-on technical skills through his apprenticeship at Matrix Packaging Machinery, and it has helped steer him toward his future goals.
He has been interested in learning how things work from the time he was young. It started when his dad exposed him to, of all things, fish tank equipment. The aquatic array of components piqued his interest in tinkering with things, and his passion for hands-on skills was born.
As Kurten's gotten older, his interests have become more sophisticated. Today, he is drawn to machining and engineering and has even built a small workshop at home with welders, a plasma cutter, a drill press, and grinders just so he can learn how things work.
When Kurten heard that Matrix was participating in the Ozaukee Youth Apprenticeship Program, he knew it would be the perfect way to learn more about his interests. He has been a Matrix apprentice for about a year and has learned machining skills through hands-on activities and projects. He is using critical thinking to solve problems and has a helpful team to mentor him throughout the educational process.
"We have some really great machinists at Matrix that are absolutely at the top of their profession," he said. "Whenever I have questions, they always know what I'm trying to figure out and are there to help me with problems."
Giving high school students like Kurten an experiential education is something that Matrix believes positively impacts lives, as well as the future of manufacturing.

Eric Walker, Mechanical Engineering Manager at Matrix, has seen how Kurten's exposure to different aspects of the business has shown him how different departments work together and how they interact.

"Without a program like this, Sam wouldn't truly understand what goes on in machining and engineering," Walker said. "That's why this is so valuable. Sam sees machining and engineering working together."
Kurten has proven that he's the right intern for the job, too.

"Sam is doing fantastic," Walker said. "He is a very bright young man – that was evident even during his interview. It was obvious to me that he was going to be a very strong candidate. And, thus far, he's been just that. He has been ideal for this apprenticeship program."
Through this program, students like Kurten benefit from interactive learning and on-the-job training. That exposure helps create future industrial workers and leaders, something that is important as the current workforce starts to age. It also gives Matrix the opportunity to engage with and guide younger individuals into the world of manufacturing.
Walker is proud of Matrix's commitment to the community and its desire to introduce future apprentices to possible careers.

"Matrix has a vested interest in serving the community," Walker said. "We have access to these young individuals through a program like this. So, it's an outreach tool for us and allows us to engage in the excitement of younger individuals, and that gives them a bright outlook for their future."
For Kurten, the hands-on work environment and guidance provided by his apprenticeship allow him to work in an area he sees in his future – which is leaning toward engineering. The knowledge and skills he is gaining at Matrix will give him an advantage over other students entering the career. He is learning how specific tools can be used to create new packaging machine parts, while also learning how engineering can utilize those components for better system performance.
"My apprenticeship with Matrix has really opened my eyes to all the possibilities within packaging and manufacturing," Kurten said. "So far, it's been a really great experience to be able to do something that's going to help me long-term."
Companies in this article