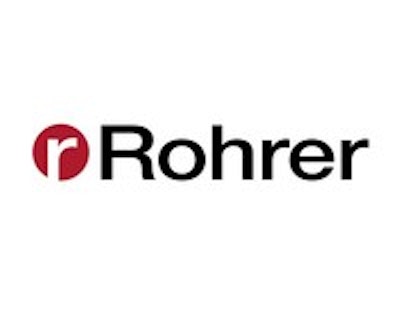 Following the recent acquisitions of Coburn Carton Solutions and Transparent Container, Rohrer is expanding its leadership team to meet the demand for additional folding carton and thermoforming capabilities, expanded product range, and the largest combination-run for printed and thermoformed visual packaging products in the world, all under Rohrer's ezComboSM program.

Rohrer's three new executives are:
• Chris Rautner, chief human resources officer, is a seasoned executive in leading PEOPLE strategies for global enterprise and executive management teams. He most recently served as the vice president of human resources for the Ferrero Group, where he was responsible for employee development, human resource efforts, and acquisition transitions for more than 3,500 employees across 70 locations. Rautner said, "I'm thrilled to join this talented team, inspire its employees, and promote its amazing corporate culture so we can become the 'employer of choice' in the packaging industry."
• Gary Starks, senior vice president of operations, brings more than three decades of PRODUCT packaging operations, engineering, and technical skills to Rohrer. Most recently, he worked as the vice president of machinery operations at Automated Packaging Systems (now part of Sealed Air Corp.), where he streamlined the manufacturing, engineering, R & D innovation, sales support, QA/QC, logistics, automated packaging, and imprinting machinery systems for six facilities. Starks said, "Rohrer is focused on continuous operations improvement for the benefit of its customers and employees, so I am excited to join the company and assist the team in achieving those goals."
• Martin Layding, chief financial officer, has over two decades of PROFITABILITY growth experience, delivering breakthrough financial results and process improvements across all aspects of the organization from financial planning and analysis, manufacturing, and supply chain processes to financial systems, treasury, insurance, and real estate activities. While most recently chief financial officer for Function of Beauty, his extensive experience spans private equity-backed firms and public companies like tapestry/Coach, and Novartis.
"These experienced leaders bring a wealth of industry knowledge to Rohrer," said Steve Wirrig, CEO of Rohrer Corp. "Together, we can focus on three assets that will lead us successfully into the future: 1) PEOPLE: energizing partnerships with our customers and employees, 2) PRODUCTS: developing new and innovative packaging solutions, and 3) PROFITS: improving overall sales growth and profitability."
Companies in this article