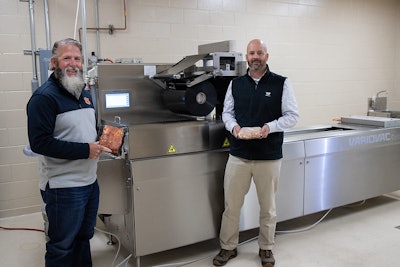 The food product packaging research began in October and will capitalize on cutting-edge equipment.
"We are grateful and excited for the unique learning opportunities that will come from utilizing a collaborative partnership," Associate Professor Jason Sawyer said. "Through this partnership, Winpak and Auburn University will aid their shelf-life research through the placement of a VarioVac Rollstock Packaging Machine provided by Winpak."
Collaborating with Winpak and working with industry leaders will not only enhance and contribute to diverse research experiences within the graduate program, but will also provide undergraduate students with real-world meat and food packaging involvement, Sawyer said.
"We anticipate this project will work as the foundation to a significant relationship with Winpak, as Auburn University works in tandem with company experts to produce cutting-edge protein packaging and shelf-life solutions," he said.
The significance of the Auburn University meat science research team is to provide retail stores and consumers with an extended shelf life, adding more product value and reducing markdowns and waste at the retail counter.
Research evaluating alternative packaging of protein products can provide greater knowledge on creating safer products for consumers as a result of less microbial growth. It also enhances consumer shelf-life appeal.
"Winpak is excited to partner with Auburn University on this unique opportunity," said Tom Bonner, protein market director at Winpak and an Auburn alumnus. "Developing packaging concepts is an area where Winpak feels Auburn's Lambert-Powell Meat Laboratory can add valuable knowledge and insight."
Many of the leaders in the protein industry are looking for innovative and sustainable solutions to the ever-changing demand for new packaging concepts, Bonner said.
"As Winpak continues to develop sustainable packages for the protein market, we hope this partnership will attract these industry leaders to the Lambert-Powell Meat Laboratory to conduct packaging trials and ideation sessions," he said.

Companies in this article