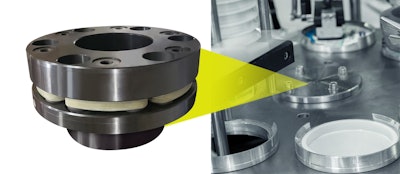 Zero-Max application engineers met the challenge with a customized CD coupling. The original packaging system gearbox and driveline did not use a CD coupling and had excessive torsional compliance. When the system accelerated and decelerated, a torsional windup occurred between the system's large diameter turntable and the servomotor position. The windup was causing a rotational "bounce" when stopping the turntable, requiring a settling time, which reduced throughput on the machine.
A stiffer gearbox and a coupling with higher torsional stiffness were needed. The customer chose a flanged gearbox which eliminated an output shaft and one source of compliance. This design allowed Zero-Max, a motion controls product manufacturer, to substitute a flange adaptor to its field-proven CD coupling in place of the standard coupling hub. This design simplified the driveline with fewer components and improved the performance. Also, a special extra-stiff CD disc pack was added to the modified coupling, providing the extra torsional stiffness needed, allowing for increased volume throughput of the machine.
The high torsional stiffness of the CD coupling improved the indexing motion of the turntable. It eliminated the rotational "bounce" which reduced the settling time, increasing the production capacity of the packaging machine. The disc pack design also handles misalignment, while keeping the reaction loads on the connected bearings and components to a minimum, ensuring long life in the machine. Additionally, the coupling has an aluminum hub and flange which reduces the weight and inertia of the system.
The customized CD coupling provided a straight-forward solution. It was easy to install by simply removing the failed coupling and connecting the new CD coupling's flanged hub design in the system's power train, without having to redesign or relocate any machine components.

Companies in this article