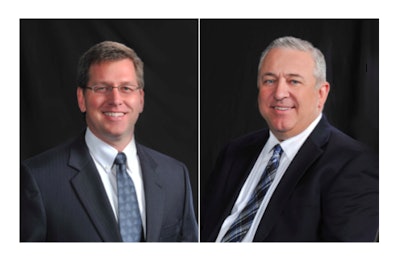 Tekni-Plex, Inc., a global packaging, medical compounds and tubing company, has named new leadership for its films and closure liners business units.
David Andrulonis has been promoted to senior vice president and general manager of the company's global Tri-Seal closure liners business unit and Kirk Rumsey has been promoted to vice president of procurement and general manager of the company's U.S. Tekni Films business.
"We have been rapidly growing our closure liners and films business globally, through acquisition, new product development and new equipment investment. To facilitate our responsiveness to customers and capitalize on our growth opportunities around the world, we have separated our closure liner and films operations into different business units. Putting these two seasoned packaging executives at the helm of each unit will enable us to accelerate our focus on customer needs, product development and manufacturing improvements," said Paul Young, Tekni-Plex chief executive officer.
Andrulonis has been with Tekni-Plex since 2010, and formerly, was responsible for both U.S. closure liners and films. Rumsey joined the company in 2013 as vice president of global procurement. Both Andrulonis and Rumsey have had extensive experience representing plastic packaging companies throughout their career.
Companies in this article