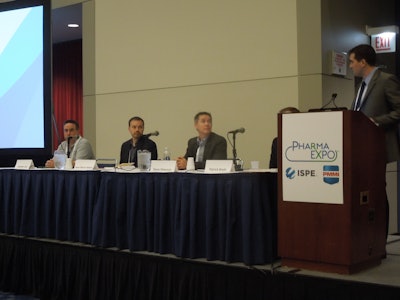 If your company doesn't have top management executive-level commitment to achieving DSCSA/serialization compliance, you are doomed.
That opinion about achieving serialization compliance came from Steve Peterson, Principal, Peterson Group LLC, shared during a panel discussion on serialization during the Nov. 9 ISPE Compliance Trends Track during Pharma EXPO.
Peterson said a lack of understanding regarding serialization compliance and underestimating what resources are necessary to meet Nov. 2017 serialization deadlines are the likely reasons top-level executives may not be ready for this challenge.
Stephen Lisa, Director, Product Management, Systech Intl., said companies that have successfully integrated serialization make it a point to involve packaging line operators from the beginning. "Companies should try to come up with a method of integrating serialization into their packaging process as opposed to addressing it as a separate item."
Jean-Pierre Allard, Chief Technology Office, Optel Vision, reminded the audience, "The clock is ticking. By next April customers might not be able to implement a full serialization and aggregation line before the November deadline."
However, Patrick Boyle, President, Skillpad Canada Inc., believes there is plenty of time, especially as companies finalize 2017 budgets. Skillpad focuses on solving issues of concern to senior management in regulated industries.
Boyle said the pharmaceutical serialization parallel those of the aerospace business when a 2002 deadline faced that industry's supply chain, which was trying to address counterfeit aircraft parts that affected passenger safety.
"There were teething pains at first, but it's now the new normal in aerospace," said Boyle. "Companies need to build repeatable, consistent procedures and engage packaging line operators to follow through on these steps and procedures."
Emerging issues in development
The Compliance Panel was chaired by Oliver Stauffer, CEO, PTI Inspection Systems, who asked panelists what issues they see developing regarding serialization.
Peterson said, "Mergers and acquisitions can lead to artwork revisions. Companies might want to consider label consistency to reduce excess changes."
"We're trying to minimize times from purchase order to delivery, sometimes offering preconfigured or online systems," said Allard. "About 25 percent of companies haven't even started serialization at their plant."
Lisa offered this positive news: "Those companies that have employed serialization and aggregation are learning more about their operations and processes. One of the issues that's been discovered, for example, "is partial case tracking problems, which were identified and fixed."
What are the key questions?
Stauffer asked panelists, "If a site is pursuing serialization, what three questions must they answer?"
Lisa said, "Identify who in your organization is driving serialization and who makes final decisions? If it's a multisite organization, are workflows defined per site or by a corporate standard? What standards are we going to follow?"
Allard asked, "Do you want aggregation up front or do you want to wait? Do you want to add equipment and incorporate serialization on existing lines/equipment? What kind of packages do you want to be serialized? Do you want to handle IT or outsource it? Can the company define a master data strategy? Who will own the data? Who will provide serial numbers—you or an outside resource?"
Benefits
Though some product manufacturers and contract packaging/manufacturing organizations may view serialization as an expense with little if any return on investment, panelists at this session saw the potential benefits of serialization and aggregation compliance.
Allard noted, "Everything is recoded with time stamps, so a lot of OEE information can be gathered from this data that can help your company become more aware of how healthy your line is. Also, when product is rejected, you can learn why and correct it."
Lisa added, "We had a larger customer with close to 100 lines that has seen line efficiency improve. With aggregation employed, this company found that corner wrap and print-and-apply systems often ran out of labels, an issue that wasn't noticed immediately. The issue became very visible and allowed them to begin to run lots more quickly and efficiently."
One audience member asked, "What happens after the deadline? What should we be worried about next after that?
Peterson responded, "Industry can't assume everyone will be ready by the deadline. I would expect if companies aren't ready, they will need to demonstrate they have a plan in place to get there."
Companies in this article