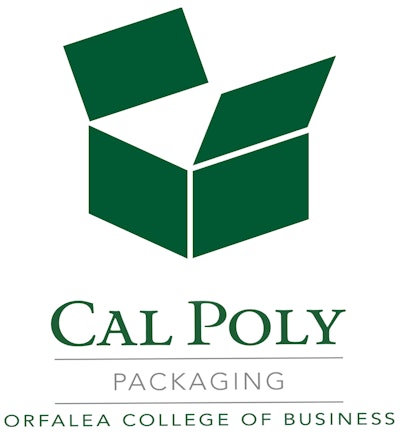 This is the fifth year that this scholarship has been awarded, and again it's in conjunction with Packaging World's Leaders in Packaging (LIP) program. Companies who participate in LIP are supporters of this annual educational award.
The Packaging Program at Cal Poly is housed in the Industrial Technology & Packaging area (department) of the Orfalea College of Business and currently ranks among the premier packaging programs in the U.S. Over the past decade this program has established a commanding position as a leader in cross-functional undergraduate packaging education. Cal Poly's Packaging Program incorporates a broad range of technical/business management skills and knowledge to cultivate best-in-class industry leaders. The collaborative, project-based classes create well-rounded problem solving graduates who are successful and quickly functional in any industry. Students develop a strong foundation in science and liberal arts, business and management disciplines, as well as extensive hands-on coursework in packaging, supply chain, and industrial operations. The program meets the needs of the packaging industry with employees who know technology, who know and work well with people, and who can manage the processes of change.
Cal Poly students learn to apply fundamental principles to real issues currently faced by the packaging industry. Since its inception in 1987, Cal Poly has been known for its packaging minor focus that included core packaging curriculum; over recent years it has reinvented itself to accommodate the holistic demands of today's packaging industry. Through a Bachelor of Science in Industrial Technology and Packaging, the program offers a unique interdisciplinary curriculum that blends the university's Learn by Doing philosophy with the study of materials science, manufacturing, packaging processes, design thinking, structural design, graphic communication, marketing, business, and food science. Taking advantage of its unique location in a business school, it also offers an exclusive consumer packaging solutions concentration in business administration. The interaction between packaging and the consumer creates a rich environment for students to examine complex problems.
"Hats off to Cal Poly on being selected as the recipient of this 2016 scholarship," says Joe Angel, Publisher of Packaging World and President of PMMI Media Group, of which Packaging World is a part. "We're big believers in the importance of educating the next generation of packaging professionals. We are indeed honored to recognize Cal Poly's contributions."
Companies in this article