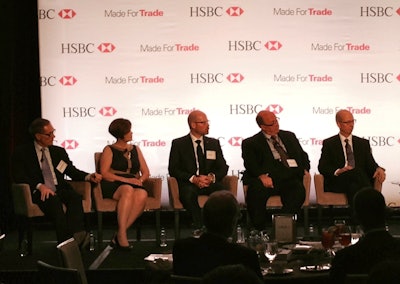 HSBC, one of the world's largest banking and financial services organizations, is sponsoring the Made For Trade tour, which is also making stops in Los Angeles, Houston, San Francisco, and Washington, DC.
Advanced manufacturing was a recurring topic of discussion at the Chicago event, but speakers and panelists acknowledged that the very term itself can be a bit nebulous and can vary from region to region. So with an assist from wireless hand-held devices distributed to all in the audience, attendees were polled on what they thought "advanced manufacturing" means in Chicago. The preferred definition: It refers to existing manufacturers who are adopting new processes and technologies. In other words, it's not about Chicago reinventing itself by bringing in brand new things to make. Rather, it's about existing Chicagoland industries, like steel, for example, optimizing their manufacturing capabilities by applying advanced methods.
Also referred to repeatedly was the Digital Manufacturing and Design Innovation Institute being brought to Chicago's Goose Island by an Illinois consortium led by UI Labs. UI Labs was awarded $70 million to fund the DMDI, which will leverage $250 million in commitments from leading industry partners including General Electric, John Deere, Procter & Gamble, and Lockheed Martin. Dr. Dean Bartles, Executive Director of the DMDI, emphasized during a panel discussion (see photo) that while it was federal money that helped launch DMDI, in about seven years "we'll have to become self supporting." He also stressed that DMDI would be much more than a laboratory. It will foster collaboration as much as anything else, and it will focus heavily on manufacturing workforce development training. Toward that end, said Bartles, a new curriculum in advanced manufacturing technology was being developed, and it will be designed so as to complement existing offerings from the many educational institutions already established in Chicago.
Moderating the panel discussion in which Bartles participated was Greg Baise, President and CEO of the Illinois Manufacturer's Association. According to Baise, the kind of advanced manufacturing workforce training soon to be available at DMDI will meet a most pressing need. "Some 600,000 good jobs go wanting in America because we lack a properly trained workforce," said Baise.
Baise was not alone in stressing how important training and education are. When the audience was asked to identify the single most important priority for Chicago businesses competing in the global marketplace, 45% picked an educated workforce. Coming in second, at 26%, was cutting regulatory red tape.
For more information about the Made for Trade tour, including the release of a new HSBC-commissioned report called "Revival in the Heartland: Manufacturing and Trade in Chicago," visit www.MadeForTrade.hsbc.com.