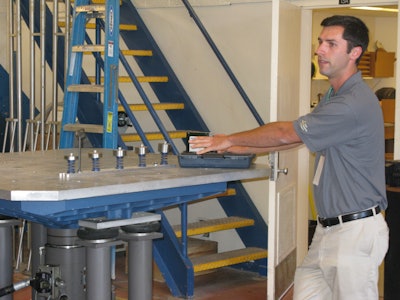 From June 18 through June 21 a barrage of presentations are being delivered at this IAPRI (International Association of Packaging Research Institutes) event, some describing technologies that are positively pie in the sky and others being so close to commercialization you can just bet you'll be reading about them a lot more in this space in the months to come.
But one of the real treats was yesterday's post-lunch tour of the campus, when we had access to a number of students who are either just graduating from Cal Poly's Packaging Program or are still here in post-grad work. Memorable bits of the day include these:
• As it's taught here at Cal Poly, packaging is a discipline that is tightly interwoven with Liberal Arts, Food Science, and Business. Why is this good? How else could the Food Science Department and the Graphic Communications Lab have jointly produced Cal Poly Chocolates for distribution throughout the San Luis Obispo community? The chocolates are made by students in Food Science, and they're sold in packages that are designed by students in the Packaging Program.
• The labs where packaging is taught include machines for compression molding, thermoforming, injection molding, extrusion blow molding, ultrasonic welding, MAP flow wrapping, L-bar shrink wrapping, digital printing, flexo printing, drop testing, and a lot more. The impact that simulated rail switching might have on packaging is also studied, and dynamic cushion tables and vibration tables are used to test random vibrations. In the photo shown here, Evan Cernokus, a graduate student in the Packaging Program, demonstrates just one of the testing devices used in the labs.
• Some student projects actually make it onto store shelves, like the retail-ready asparagus package that Gourmet Trading Company needed in order to meet WalMart's requirements. A Cal Poly student designed the retail-ready corrugated solution that Gourmet Trading Company was seeking. Some 45,000 units per week are now made and shipped.
Packaging World is a Gold Sponsor of the 18th World Packaging Conference.