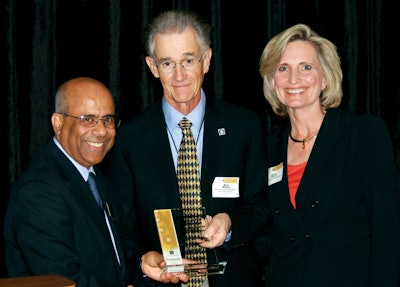 The Nick and Nancy Wilson Mechatronics Engineering Technology Laboratory is named, respectively, after the president of Morrison Container Handling Solutions in Glenwood, IL, and the company's director of customer relations.
Nick Wilson served as the catalyst behind a partnership of packaging industry leaders who helped Purdue Calumet faculty develop a curriculum in mechatronics engineering technology. Subsequently, the Wilsons have been generous endowment supporters and personally involved in the university's baccalaureate degree program, which debuted in 2008.
"Without Nick and Nancy's efforts, our mechatronics engineering technology program would not be what it is today," Purdue Calumet Dean of the School of Technology Niaz Latif said. "Nick was instrumental forming the partnership among Purdue Calumet, packaging industry leaders and the Packaging Machinery Manufacturers Institute."
Continuing, Latif said, "These partners helped us design our Baccalaureate of Science degree program, donated equipment for a hands-on training laboratory, and provided scholarships and internships for our students. Through these partnerships, our mechatronics program has thrived."
Mechatronics engineering technology combines mechanical design, manufacturing, and electrical control within a foundational context of packaging machinery. Students learn to design, build, and service the complex, high-speed machinery used in the fast-growing, multi-million dollar packaging industry.
The Nick and Nancy Wilson Laboratory enables students to benefit from application-oriented experiences within an environment of real world, packaging equipment.
An industrial need for trained technologists prompted development of the degree program and its related laboratory.
More information about Purdue Calumet's mechatronics engineering technology program is available at http://webs.purduecal.edu/et, as well as by contacting Academic Advisor Ed Perosky at 219/989-2484; 800/HI-PURDUE, ext. 2484; or at perosky@purduecal.edu.
Companies in this article
Videos from Morrison Container Handling Solutions