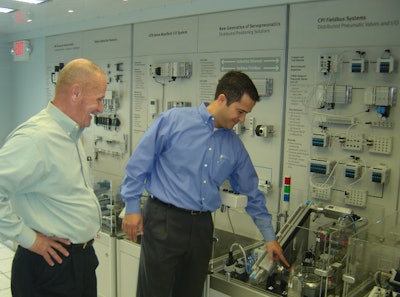 Today is Friday so we must be at Lake County Community College! Festo has invested $3 million in a mobile learning center that fits beautifully in a semi tractor trailer. Only 30 minutes after reaching its destination, the floor is expanded, the sides pushed out and Mobile Mechatronics Lab is ready for business.

On the road steadily since April, the lab has made stops these past few weeks at Milwaukee's School of Engineering, Rock Valley Technical College, and Wisconsin customers' plants Curt Joa and Plexus Corporation. Some days, more than 200 people pass through the mobile lab's doors.

Festo regional sales people are responsible for routing the Lab through their territory (high schools, college and customers all qualify), and work hand in hand with application engineers to touch and teach customers and students.
"The students is more a long term thing," says Eric Winter, Application Engineer from Chicago area. "What's really cool is pulling into a customer who has maybe used your pneumatics for years, and they see all the other products Festo has to offer. We end up with other projects."

To learn more about the Mobile Mechatroniocs Lab, and to see a schedule of where the truck goes next (or to request a site visit): http://www.festo.com/cms/en-us_us/10387.htm
To get your daily dose of packaging trends, follow me on Twitter.
Companies in this article