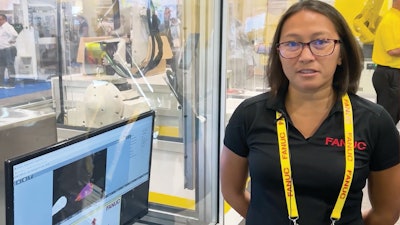 Me and 32,000 of my closest friends just attended a mighty energizing PACK EXPO Las Vegas 2023—the biggest ever, by the way. Needless to say, there was no shortage of advanced technology to dazzle us. But I also had an encouraging conversation on the subject of workforce development with FANUC engineering manager Jessica Juhasz (pictured above), who has a fascinating work/study backstory that's more like what we see in Germany than what we see in the U.S.
Juhasz earned her B.S. in electrical engineering at Kettering University, which was founded in 1919 as a night school for engineers, managers, designers, and technicians in the rapidly-evolving automobile industry. In 1923 it was acquired by General Motors and became known as GMI, General Motors Institute. The Kettering name came in 1998. Located in Flint, Mich., and having a total enrollment of about 2,237 (1,516 undergrads), Kettering's concept of education is unique in the way that it blends practice with theory in equal measure. In fact, all undergraduate students are required to complete at least five co-op terms with one of Kettering's many employer partners. For Juhasz, that partner was FANUC.
---
---
During the 4.5 years it took to earn her B.S., Juhasz spent the months of July, August, September in a Kettering classroom. October, November, December she worked 40-hour weeks at FANUC. January to March it was back to the Kettering classroom, and April to June it was back to FANUC. "At the very beginning they started me off in operations, purchasing to be more specific," says Juhasz. "Having never had a corporate job, it was a good way to get the big picture, to learn about the nature of the business, about how things that go into robots got purchased. But by sophomore year I was able to work in our manufacturing and engineering department, so it was being out on the floor, doing time studies, helping improve processes within our manufacturing department, and so on."
Upon graduation, Juhasz became a full-time FANUC engineer. And get this. In addition to gaining 2.5 years of invaluable work experience at the same time she was earning a B.S. in electrical engineering, she was paid a salary during the months she worked at FANUC throughout her undergraduate years. According to the Kettering web site, today the average hourly co-op earnings for first-year students is $15.38. And for seniors it's $18.72.
Looking back now, Juhasz sums up her co-op experience this way: "It was a unique way of learning and understanding what I wanted to do in my career. You just can't get that in a conventional academic program because it's all purely theoretical."
Denise Scanlon, university and early career talent acquisition partner at FANUC, is equally impressed with what Kettering offers. "It's so well organized," she notes. "And they don't make it a hardship on the manufacturer employing the student." Worth noting is that Scanlon is the one who brought Juhasz into the Kettering/FANUC fold way back in 2005.
Also intrigued by the Kettering/FANUC relationship is Stephan Girard, senior director workforce development at PMMI. "Co-ops are great because they are similar to registered apprenticeships, but they don't have as many strings attached since they are not affiliated with the Department of Labor," says Girard. "What's so important about a co-op is the hands-on experience that's gained. A student in a conventional engineering program typically doesn't get beyond the theoretical. But a student coming out of a co-op is ready to hit the ground running. I would love to see more of these types of programs."
While we're on the subject of workforce development, be sure to visit PMMI U to see what it offers to help the development of the future workforce. PW
Companies in this article