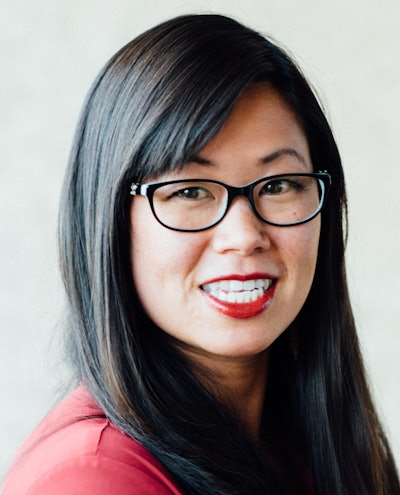 Packaging World:
What are your core responsibilities as Global Vice President of Packaging Sustainability at Mars, Inc.?
Allison Lin:
In my role at Mars, I lead the global cross-segment strategy to improve the sustainability of Mars's product packaging. We've set an ambitious, science-based target to design all of our products for a circular economy. This includes eliminating unnecessary packaging, removing difficult-to-recycle materials such as PVC, and using recycled content wherever possible. We're also working in partnerships with governments, NGOs, suppliers, packaging developers, and even competitors to drive the systems change necessary to make a circular economy truly possible, including both necessary redesigns as well as infrastructure improvements.
What was your career path to get you to where you are today? Did you have a mentor?  

I originally interned on Wall Street at Merrill Lynch and quickly realized that wasn't the right career path for me. Luckily, Procter & Gamble was recruiting on campus, and I entered the world of packaging—which I knew nothing about at the time except as a consumer. I was offered the opportunity to lead their global recycled and bio-based plastics sourcing strategy, and I fell in love with the field of packaging sustainability. I eventually went to Starbucks, where I got to experience the fiber side of the packaging business as well, and Coca-Cola, where I led the World Without Waste strategy for Closures, Labels, and Films. I recently spent two years on the converter side of the business to get a different perspective leading corporate sustainability at Westfall-Technik before coming back to the brand owner side at Mars. I've been extremely fortunate to have many mentors along the way, as well as role models and male allies.
---
---
What advice would you give young women looking to get into packaging?
Be the change that you want to see. Sustainability is attracting more diverse talent into the packaging space, and young, diverse talent can bring some unique perspectives to this industry. You will meet people who have been working on packaging for 25-plus years, but you can still bring a unique perspective to improve the industry. Definitely find a mentor and attend conferences to build your network.
How can companies become more inclusive? Are there any special programs at Mars that that focus on diversity and inclusion?
I've been lucky that the companies I've worked at have been pretty diverse. However, the supply base is definitely not the same. Brand owners take the perspective that our workforce needs to be representative of the consumer base we serve, and packaging suppliers should do the same. Inclusive recruiting is only the first step. Creating an environment where diverse talent can thrive, with representation across all levels and functions of the company are important to retain talent. Companies should take steps to uncover unconscious bias and promote purposefully inclusive environments.
Mars is working to foster a more inclusive workplace across numerous intersections. We now have more than 50 Associate Resource Groups (ARGs), which we're leveraging to create spaces and communities for associates of every race, ethnicity, culture, and background to freely and safely engage and express themselves and act as an ally.
We're also committed to creating opportunities for women to reach their full potential. We've already achieved equal pay for our associates and are expanding childcare benefits and flexible hybrid working; challenging stereotypes and bias in our advertising; and investing $1 billion in our diverse supplier program, $500 million of which is women-led. Last year, we also launched a global listening study called #HereToBeHeard to amplify the voices of more than 10,000 women across various intersections—including race, age, sexuality, religion, disability, and more. Mars is leveraging insights from this meaningful dialogue to design and implement new policies and actions to further inclusion.
PMMI supports women in packaging through The Packaging & Processing Women's Leadership Network. The group serves to recruit, retain and advance women's careers in packaging and processing through online and in-person events, information-sharing and networking.