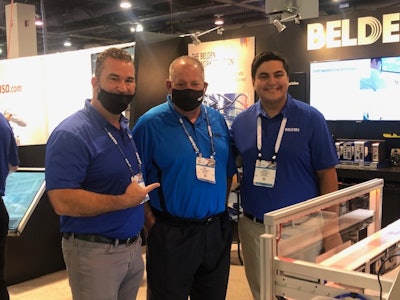 This year at PACK EXPO Las Vegas and Healthcare Packaging Expo, Belden showed off more than just its cable and connector products. It also displayed a machine that laminates a business card—which, on the surface does not seem that compelling—until you talk to the person who built the machine, who is still in high school.
Costa Aralis, a senior at Glenbrook South High School in Glenview, IL, was part of a team that designed, engineered, and built the machine which includes a robotic arm, sensors, pneumatics, camera, conveyor, I/O, and more. Together with several other students, Aralis and team started working from the ground-up, designing everything, including cutting aluminum extrusion, designing 3D-printed gripper fingers, and programming the robotic arm in order to create a machine that could execute a task, just as if it were on a production or packaging line. The team was then expanded to include the digital electronics class where students divided into groups to further develop the design, which included a graphics team, a space planning team, and a media team.
"Between the robot, the industrial networking, all the firewalls, and all the sensors, I've never had an opportunity to apply all those things at once until now," Aralis said while demonstrating the machine at the Belden booth at PACK EXPO Las Vegas. "Jumping in headfirst and learning by doing is a skill that I've been developing in my [engineering classes] at Glenbrook South. This real world experience will help me in college and my future career endeavors," he said, noting he plans to pursue a career in electrical engineering.
The high school team, which started working on this over the summer, was led by Justin Zummo, an engineering teacher at Glenbrook South and Chris Noble, Belden's global director of solutions, CPG, with help from Raymond DiVirgilio, a senior solution services engineer at Belden. Noble initiated the workforce development project as part of Belden's Outreach Program, which encourages employees to give back to the community, along with support from the PMMI U Skills Fund, which provides PMMI members with a financial contribution for workforce training.
---
---
Noble wanted to provide factory floor experience to students that goes beyond what they learn in the classroom or even at robotic competitions. "Real machine building includes deadlines and critical thinking, figuring out how to divert and come at it from a different angle when something is not working," Noble said. "I gave the kids the autonomy to go about the design and the concept."
Glenbrook South has about 250 students in its engineering program which is based on a national curriculum from Project Lead the Way, a nonprofit that develops a pre-engineering curriculum focused mostly at the high school level. But the Glenbrook South teachers and students are finding ways to extend the STEM (science, technology, engineering, and math) experience down to the elementary school level. "It is for any student to access and we make sure it is inclusive," said Dawn Hall, instructional supervisor for Glenbrook South's career and technical education department, noting they continuously work to improve the gender balance.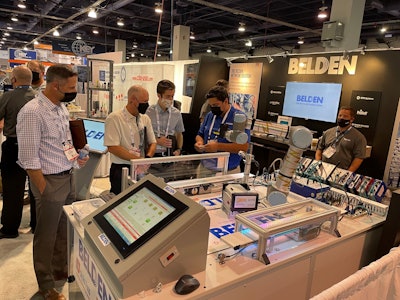 For example, one female student, who is now enrolled in an engineering program in college, recognized that young girls needed to see role models that looked like them in order to pursue engineering as an interest. So, once a month, she would create a lesson plan and teach middle school students different STEM topics. This experiment is now part of the high school program "It's about exposing middle school students to 3D printing and rocketry early on and giving them mentors that they can look up to so that they don't deselect this before they even get to high school," said Glenbrook engineering teacher Mike Sinde.
According to Belden's Noble, it all starts with the process, teaching students to exit out of the tunnel vision that often derails a project. "There's always a plan b or plan c," he said.
"The biggest thing Mr. Noble taught us is the real world application for the projects we built," Aralis said. "The things we build usually get put into a storage room, and everything we built [in this project] could be used in the industrial world."
It's an experience meant to usher in the next generation of engineers by helping them realize that failure is sometimes just a step in the overall success of a project.
"It was an honor to work with Chris and the manufacturing industry," Zummo said. "We can take all of that information and feed it back to the students. Overall, they've learned so much and it will help influence our curriculum moving forward."
Hall agreed that the experience was one of the best to give the students because it taught skills while strengthening their mindset. "They have the opportunity to fail and retry and do it again to make it better," she said. "They'll tell you what went well, what didn't, and what to do next. They become comfortable knowing that failure is a step in the process. We're able to strengthen their mentality a little, as authentic experiences like this project in engineering design and problem solving builds resilience."
---
---
Belden's DiVirgilio, who worked with the students on the electrical and mechanical redesign of the robotic arm, was impressed with Glenbrook South's proactive approach to STEM education, noting that in his 30 plus years of working in the industry, he has seen these types of classes in technical schools, but never at the high school level. "I would like to see more of this type of class included in the school's curriculum and allow Belden and other manufacturers to Co-Op with these schools," DiVirgilio said. "I believe it would provide more interest in the next generation, [especially] as we move closer to cloud-based solutions in the manufacturing environment. This hands-on approach of working together with students definitely provides interest and experience."
Noble added: "This collaborative outreach and mentorship opportunity was personally very rewarding. We as professionals all have an obligation and opportunity to influence the next generation. Someone, somewhere in our early career mentored and influenced us. Now's the time to pay-it-forward. The food, beverage, and packaging segments are exciting high-tech industries to work in that can be very rewarding both professionally and monetarily. We need to start earlier in the process with students to help them develop a vision."
For Aralis, his participation in the program may have already paid off. "Belden plans on interviewing Costa for an internship and our Early Career Leadership Program as he progresses," Noble said. "This is a three year program that would give Costa the chance to work for Belden in a number of areas including sales and engineering. The program is designed to groom gifted prospects for early leadership potential."
Companies in this article