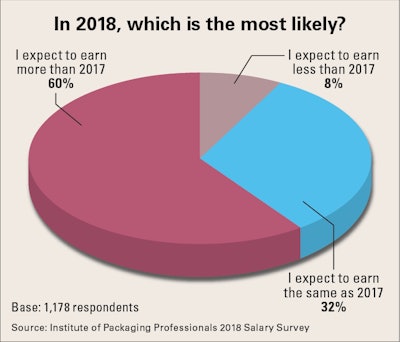 Could 2018 be the year of the raise for packaging professionals? You can bet that would be more than welcome news for 2018 Salary Survey respondents who reported a meager 0.1% average salary increase last year.
Combine those flat incomes with a growing economy, and you might think packaging professionals would be readying their resumes in search of greener pastures. Yet results were mixed when it came to job seeking.
Several factors merit consideration here. Take job security, for example, where only 15% of respondents indicated they were either a little worried or very worried. Contrast that with 70% who feel either very or somewhat secure.
Salary likely plays a part in that security, with overall average salary/bonus/cash incentives/commission reaching $117,050 this year versus $116,910 reported in 2017. Not much difference there until you see that domestic respondents enjoyed a 1.67% bump to $121,708 this year versus $119,714 in 2017. Conversely, foreign workers saw their incomes decline from $88,415 in 2017 to $86,052 this year.
The 2018 Salary Survey was conducted by the Institute of Packaging Professionals and Packaging World magazine. It was developed in cooperation with Gros Executive Recruiters, recently acquired by MBS Advisors. Kane Consulting tabulated and summarized the results.
Big jump in respondents
"The most significant aspect of this year's survey is not contained in the statistical detail. It is in the sheer number of responses," notes Dennis Gros, President, MBS Advisors, Recruiting Div. He refers to the 29% rise in the overall base of respondents to 1,182 this year.
Could the increase in respondents be attributable to packaging pros having more free time to fill out the survey? "Are ya kidding me?" Gros jests.
Could it be that people employed in packaging functions flourished in the past year? "Look around," he says. "Did they hire anybody to help YOU?"
The real reason, Gros suggests, is that curiosity—and optimism—about compensation is swelling. This is driven by the signs of a robust economy. "We're hoping, praying, and anticipating that robust business levels will act like Santa Claus and deliver a financial present for each of us in 2018," he says.
Limiting income factors
According to the U.S. Inflation Calculator, the current U.S. inflation rate was 2.4% for the 12 months ending March 2018. That means survey respondents aren't keeping up with inflation.
Looking closely at this year's salary survey respondents reveals the following factors contributed to this year's flat salaries:
• More respondents within the two years or less experience category: 8% in 2018 versus 5% last year. At this beginning experience level, the average salary is $73,040, barely rising above last year's $72,970.
• Two age categories, 35 to 44 and 65+, saw pay losses this year compared to 2017. For the latter group, the decrease was $5,540; $4,900 for the younger group.
• More females responded in 2018, 24%, compared with the 22% in 2017. Females earned $102,090 in 2018 while males made $121,990. The news on this front is that the gender pay gap narrowed, with incomes for women rising on average $3,130 in 2018, yet only $220 for men.
• Pay declines for marketing/sales and production functions: More marketing/sales pros responded to this year's survey than in 2017, 19% versus 15%. Incomes for this function retreated from $137,730 in 2017 to $128,520 this year. Production pros saw average salaries dive from $117,340 in 2017 to $83,530 this year.
• Workers at companies with 10 to 49 employees took a sizable financial hit, with salaries plummeting $19,910 on average in 2018 versus last year. Similarly, workers at companies employing 5,000 to 9,999 experienced pay declines averaging $12,820 in 2018 compared to 2017.
• Workers in the South Central region saw their average pay fall $7,330 this year compared to 2017.
Media reports in general have suggested that in 2017 companies pushed bonuses in lieu of salary increases, likely deferring bonus compensation to 2018 for tax purposes.
Where incomes rose
Beyond the $1,994 income increase for U.S. packaging pros, there were also pockets of positive news:
• Incomes jumped on average 6.8%, or $8,903 for those aged 55 to 64.
• Those in the West and East North Central experienced the largest income gains, at 4.7% and 4.6%, respectively.
• Consultants and structural design job functions should be smiling, reporting income increases of 23.4% and 16.9%, respectively. For consultants, that's a whopping $24,462 leap. For structural design pros, it's a healthy $13,129. "In the face of a billowing economy, consultants book more work because owners want advice about the smartest methods for expansion," says Gros.
• Workers with three to five years of experience saw their incomes rise more than any other group, at 7.6%, which equated to $5,758.
• While there weren't major changes in pay based on educational level, those with some graduate studies enjoyed the largest boost, 3%, or $3,661.
• For those working at companies employing one to nine workers, incomes skyrocketed 32.3%, from $109,662 in 2017 to $145,106 this year.
• "Buyers, inventory specialists, and logisticians are feeling the financial love," says Gros. "This year's average compensation for supply chain professionals is more than $112,000."
Big picture: "We predict 2018 will be the year of the raise," says Gros. "The decisive factors include a robust economy and increasing competition for talent. A bidding game for talent is mounting, and packaging professionals want to play."
Online packaging and processing job board launched
Made possible by a $50,000 grant from the
Bosch
Community Fund, PMMI launched CareerLink, a new online job board. CareerLink will connect students from schools and universities with PMMI member companies looking for new talent. This job board is the centerpiece of a new initiative aimed at raising awareness of career opportunities in the packaging and processing industry through fostering relationships with institutions, marketing the industry to students and helping students find entry-level employment and internships.
Access the job board at careerlink.pmmi.org, or learn more
here
.
It's not just about the money
According to a recent Gallup poll, less than one-third of the American workforce is engaged. Gallup says engaged employees work with passion and feel a profound connection to their company and drive innovation, ultimately moving the organization forward. Engaged workers can increase customer satisfaction, productivity, and profitability.
Unengaged workers cost businesses an estimated $450 to $550 billion each year, according to Gallup, in absenteeism, turnover, theft, safety, and quality. Worse yet, 17.5% of workers are actively unengaged and can be erosive and drive the organization in the wrong direction by taking out their unhappiness on fellow employees, etc.
PMMI offers a free 79-page PDF from the OpX Workforce Development Solutions Group. Workforce Engagement: A management framework for improving employee productivity, covers the three pillars of employee engagement—empowerment, enablement, and connection.
Download your copy here.
—Jim Chrzan
Tools to become a better packaging professional
Survey participants were asked to comment on the one thing they needed to make them a better packaging professional. A total of 685 respondents answered this question. Of these respondents…
166 indicated they needed more training and education in the form of classwork or seminars
157 felt that they needed more/different experience
63 want better networking/contact opportunities
55 wanted access to better industry information
50 indicated they needed more time, or more efficient use of time
38 wanted to know more about the latest trends/developments
37 wanted more resources, budget, or equipment
35 referred to obtaining an IoPP Certified Packaging Professional CPP certification/other certifications
24 wanted greater personal recognition from their organization or for the packaging function in general
19 said their company needed more/more competent people
Companies in this article