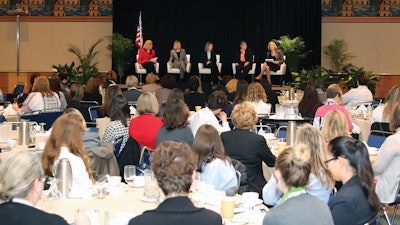 As one attendee put it in a survey sent out after the event, "Excellent speaker and excellent panel…. motivating, inspiring, and passionate." Another verbatim comment: "The event was a great way to meet other women and was a good use of time."
By all accounts it was an impressive start to this new PMMI effort launched in May 2016. A little background helps put it all in perspective.
In May of 2016 PMMI hosted a meeting of 20 women leaders—suppliers and end-users—to discuss and evaluate the merits of launching an organization focused on engaging and accelerating the career journey for women in processing and packaging. These leaders formed the Executive Council, and this council produced not only a clear vision but also the core values that would help this vision blossom. The vision was to empower women to grow and succeed as leaders in processing and packaging businesses. The core values? Inclusion, transparency, and usefulness. As for the mission behind all activities of the PPWLN, it comes down to this:
• Packaging & Processing Women's Leadership Network (PPWLN) serves to recruit, retain, and advance women in processing and packaging.
• Through leadership development, networking events, and mentorship, PPWLN's purpose is to bring both established leaders and young professionals together to expand the presence and influence of women in the industry.
One decision made at this May 2016 meeting was that PACK EXPO 2016 should include a breakfast event aimed at gauging the interest that women in packaging and processing might have in this kind of initiative. Planning for a first-class launch began in earnest. As a result, the Tuesday breakfast at PACK EXPO included a terrific keynote presentation by Diane Lyons, Audit Industry Leader for Consumer and Industry Products at Deloitte, and an ensuing panel discussion with great opportunity for networking.
"Manufacturing competitiveness and the role of women in manufacturing" was the title of Lyons' keynote presentation, wherein she talked about the studies of Deloitte's Center for Industry Insights that correlated manufacturing competitiveness to the industry's widening skills gap. The report confirmed there is a significant shortage of manufacturing talent. This is only magnified by the gender gap in this industry, losing out to technology, retail, and other sectors. According to this study, the implications are significant. Between 2004 and 2012, says the study, U.S. manufacturing industry lost $9 billion to $25 billion per year of output because of open positions that went unfilled.
In addition, those women now in manufacturing are faced with underrepresentation at the leadership levels and/or underappreciation in the workplace. These business challenges have created the opportunity to deploy strategies to unleash human potential in companies wishing to remain competitive and relevant.
While a recent survey noted that 51% of respondents believed that progress is being made in addressing just how the manufacturing workforce development challenge is being met, there is considerable work to be done. Lyons encouraged individual, company, and industry involvement to move the needle forward.
Panel discussion
Nancy Wilson, CEO, Morrison Container Handling Solutions, moderated a panel of four members of PPWLN's Executive Council. They shared their insights and experiences on their journey in manufacturing and leadership. A few takeaways include:
• On inspiration to your career—Patty Andersen, VP, Human Resources, Delkor Systems, shared that inspiration guided many of her career choices, and in a male dominated industry, it was a valuable lesson learned to be taking an entrepreneurial approach.
• The importance of mentoring—Jill Costelow, VP Operations, Pressed Juicery, LLC said that the mentoring she received from both female and male colleagues proved very valuable in her leadership development. In a male dominated environment, it was certainly important. And don't underestimate the value of ad-hoc mentoring, particularly with teams.
• Attracting and retaining younger women in manufacturing—Rachel Willis, VP, Finance, Pro Mach, Inc., emphasized just how important this is today. Manufacturing offers a special advantage if the company makes a point to show the individual how the work they do relates to something they recognize—brands, products, companies. Make sure to highlight those connections as they are powerful tools for employee attraction, especially in the packaging industry where so much is recognizable.
• The "ah-ha" moment in one's career—Janet Tharp, EVP & COO, Bumble Bee Seafoods, commented that the biggest "ah-ha" moment in her career was when she realized that the higher you go in an organization, the more time you will spend on people versus projects or strategic plans. Strengthening your communication and collaboration skills early on can be one of the greatest investments one makes in one's career.
In wrapping up a very open and candid panel discussion, all panel participants provided a brief glimpse into their recommendations for women in the packaging and processing industry.
After the event, the PPWLN Executive Council conducted a survey of those who attended the PACK EXPO breakfast. Results of the survey clearly indicate that more opportunities to share and network both in person and virtually is near the top of the wish list. Programs on leadership development and mentoring as well as other means of communicating the experiences learned by these leaders would be highly valued, too. Expect to see specific plans being presented by spring 2017. For now, join the Packaging & Processing Women's Leadership Network LinkedIn group for more information.
Companies in this article