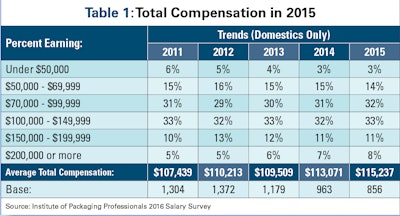 As waves of nasty political machinations in a presidential election year tumble into the undercurrents of global economic volatility, wars, and growing terrorism, you might expect dangerous waters when it comes to packaging compensation, salaries and job satisfaction.
Yet for the professionals responding to the 2016 Salary Survey, the waters appear calm, serene, and peaceful. That peace and satisfaction stems from the average respondent earning $112,720 in 2015, a 4.8% bump from the $107,521 salary reported in 2014. Total compensation increased to $115,237, up from 2014's $113,071. Further, seven in 10 feel very or somewhat secure in their jobs.
The 2016 Salary Survey was conducted by the Institute of Packaging Professionals and Packaging World magazine, developed in cooperation with Gros Executive Recruiters. Market research for the survey was provided by Kane Consulting. The survey results stem from a questionnaire developed and posted to the IoPP website from Jan. 20 to Feb. 29, 2016, with both IoPP members and nonmembers encouraged to participate.
"Packaging industry professionals are COMFORTABLE," states Dennis Gros, President, Gros Executive Recruiters. Taking the perspective of a packaging professional, he says, "Our employers are not facing serious threats. We're not in peril for our jobs. We're seeing gradual increases in compensation over the last few years, and we expect to see even higher compensation this year. This feels good."
So good that this job and salary satisfaction may have resulted in a 9% drop in survey respondents this year to 1,081. Meaning what, you ask? "When you're worried about your job stability, you're more likely to participate in salary surveys," says Gros. "This year, we're calm."
Calm is a good thing, as 86% of 2016 survey respondents reported no job change last year. Only 10% voluntarily changed jobs, while another 5% were terminated. He adds, "Only two percent remain unemployed. That's a normal level of job churn."
Seeking knowledge and training
Beneath the calm surface, even the waters below reveal no imminent dangers. About the closest thing is an undercurrent of respondents seeking to advance their knowledge to become more valuable, both for their own careers and for their employers. Nice problem, yes?
When asked to comment on the one thing they needed to become a better packaging pro, 538 provided answers. The majority, 213, sought more training and education, i.e., classwork or seminars. Another 144 wanted access to better industry information. More time/efficient use of time, better networking/contact opportunities and obtaining a CPP certification were also mentioned.
Seeking CPP certification makes sense given that certified packaging professionals pulled down $1,000-plus/year more than their non-certified colleagues. Further, IoPP member total compensation averaged $115,653, considerably more than the $109,060 for non-IoPP members responding to the survey.
Diving into the details
The accompanying charts and graphs reveal more details learned in the 2016 Salary Survey. Table 1 shows trends in average total compensation have gradually risen to $115,237 in 2015 from $107,439 in 2011. The numbers may not seem overwhelming, but their gradual advance again seems to indicate how packaging weathers global economic storms even as other industry sectors may not. Also notable: 16% of this year's respondents aged 65 and over reported total compensation of at least $200,000.
Looking at gender, 839 male respondents reported average total compensation of $116,773 while 222 female respondents earned $98,570.
Compensation by education revealed some interesting results. First, average total compensation for those with high school degrees topped those with post-graduate or PhD degrees, $101,613 to $100,987. In fact, there was no straight line moving upward from least to most levels of education. Out of six different educational level categories, respondents in the third-highest level, some graduate studies, earned the most of any category, with average total compensation of $122,264.
Table 2, compensation by job function, shows that corporate management received the biggest bucks, at $166,059. Conversely, pros with structural design functions reported average total compensation of $78,910.
Additional survey takeaways included the following:
• With an average total compensation of $124,190, respondents made the most in companies with 5,000 to 9,999 employees.
• Respondents working at supplier firms made $124,888, topping the $108,690 made by end-user organization pros.
• Looking at geographic region compensation, domestic-based respondents earned much more than foreign workers, $115,237 to $89,020. In the U.S., average total compensation ranged from a low of $104,116 in the West North Central to $126,597 in the Mid-Atlantic.
• Engineers represented the largest survey respondent group at 31%, followed by R&D (16%), marketing/sales (15%), and corporate management (10%).
• Almost one-third of respondents (32%) are not likely to seek a new job in 2016. And 70% of respondents feel very secure or somewhat secure when it comes to their satisfaction with their job security.
All in all, the 2016 Salary Survey indicates that most packaging professionals remain satisfied with their compensation and job security. In the future, the question is, "Will the waters remain calm for packaging salaries, or will 2015 represent the calm before the storm?"
What do I need to be a better packaging professional?
Undercover boss, take note! Here's what your packaging professionals say when you're not listening—and maybe
some say it but you're not listening!
About half of survey participants accepted an invitation to speak up. Here's what they said:
• Train me. This was the number one answer. The answers included classwork and seminars.
• Give me better information about the industry.
• Help me become more efficient in my use of time.
• Make networking accessible to me.
• Help me achieve a Certified Packaging Professional designation.
• Increase the level of competence among my peers.
—Dennis Gros, Gros Executive Recruiters
Companies in this article