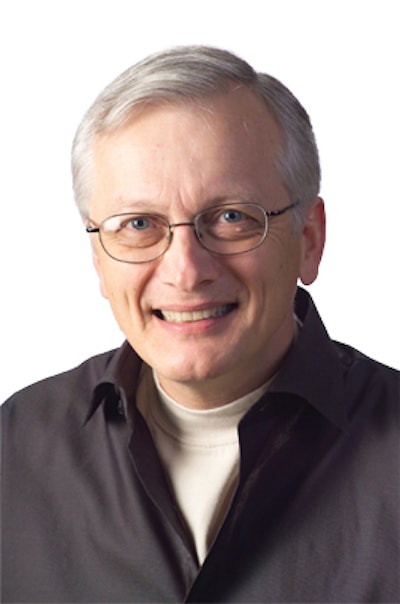 The National Association of Manufacturers projects the skilled worker shortfall at 2,000,000 over the next ten years. With that in mind, plenty of PACK EXPO Las Vegas attention was turned to the subject. Activities surrounding the topic started on Sunday, even before the show opened, with educators from across the country spending the afternoon with PMMI staff to discuss common issues and solutions for training workers in the multi-disciplined areas of industrial maintenance and mechatronics. All of the educators agree that these skills are in high demand. Mechatronics and packaging machinery programs typically have 100% placement rates and schools agree that they could place 3 times the number of graduates in jobs if only they had that many more students. Educators were provided with guided tours of the show floor on Monday, opening day.
During show hours, the Education and Workforce Development Pavilion was active in the South Hall with college students splitting their time between walking the show floor, competing in competitions, and staffing their booths. Competitions included The Amazing Packaging Race and PACK Solutions Challenge for college students and the Robotics Showcase where high school teams demonstrated their robots' competitive natures.
The Amazing Packaging Race, sponsored by Emerson's ASCO Numatics, had teams of students racing through the show to complete challenges designed and scored by participating exhibiting companies. A team made up of three students from Michigan State, Cal Poly, and Virginia Tech won the race, each receiving an IPad.
The PACK Solutions Challenge, sponsored by B&R Industrial Automation Corporation, was won by Cal Poly. The five-person team shares a $4000 prize, with the second place team from Michigan State receiving $2000 and the third place team from Rutgers receiving $1000. Teams were challenged to prepare a project proposal to solve a specific packaging problem for a mythical pharmaceutical company. A team of industry judges chose the winner.
The Innovation Showcase was also involved in the workforce agenda, with a session I presented entitled Skilled Workers Coming to a Plant Near You. This session was based upon the The Manufacturing Workforce Development Playbook, the second edition of which was released at PACK EXPO, and featured an in-depth look at PMMI's Mechatronics Certification program. This certification takes on new importance within the packaging and consumer products industries due to the fact that newly-enacted legislation requires that federal funding for workforce development and education only be given to programs that lead to industry-recognized credentials.
A best practice in exhibitor efforts to solve the workforce challenge was seen in the Omega Design Corporation booth. Read about that in the piece entitled: Combining show prep with workforce development.
Combining show prep with workforce development
Omega Design Corporation, like many other machine builders at PACK EXPO Las Vegas, had a robot on display in their booth. But what makes this robot unique, is that it is part of Omega's efforts to support their local high school system in preparing the manufacturing workforce of tomorrow.
The Chester County Intermediate Unit (CCIU) works with a number of high schools around Omega's home offices of Exton, PA. One of these is the Technical College High School (TCHS), Pickering Campus which purchased a Baxter collaborative robot in conjunction with Omega. This robot will become part of the high school curriculum in the existing Electronics and Robotics program and in the Advanced Manufacturing program scheduled to open in 2017 with guidance from Omega Design employees who serve on its occupational advisory board.
Students from CCIU and from the local Penn State Great Valley campus worked with Omega to prepare Baxter to function in a pharmaceutical case packing application for display at PACK EXPO. TCHS students have worked with traditional robots before, but this is their first opportunity to work with a collaborative robot. Students also compete in the FIRST Technical Challenge.
Students will continue to be challenged by Omega Design to complete actual work tasks using the robot as it moves into its new home at the high school. Glenn Siegele, President of Omega explained, "This will enable students to understand some of the differences between completing a task for productivity and efficiency versus just showing off the cool tasks it can do. Careers in advanced manufacturing are good rewarding careers. They are neat, safe, challenging and rewarding - both financially and intellectually. Ultimately, the Baxter's most important job is to get students thinking about their future and the many possibilities and career pathways that are available to them."
This was a great example of the collaboration needed between education and industry to solve America's workforce development challenge.