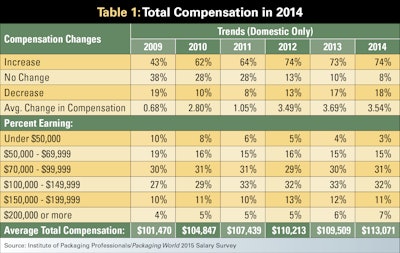 Mick Jagger once sang, "I can't get no satisfaction." But when it comes to financial compensation, the guess here is that the Rolling Stones fare rather nicely.
Packaging professionals may not get the same income satisfaction as the boys in that legendary rock band, but their responses to the 2015 Salary Survey do indeed express job satisfaction.
In particular, you may notice an ear-to-ear grin on the faces of packaging consultants, corporate management, and marketing/sales pros, whose respective salaries grew noticeably in 2014 compared to 2013. Consultants, for example, experienced a one-year increase of $13,160. Corporate management salaries escalated $10,440, while marketing and sales salaries jumped $7,030. Only three job categories experienced salary decreases in 2014 compared to the previous year, with purchasing pros seeing the steepest drop of $7,000 in 2014.
The Salary Survey was conducted by the Institute of Packaging Professionals and Packaging World magazine, and was developed in cooperation with Gros Executive Recruiters, a packaging sector executive recruiting firm. Kane Consulting provided market research for the survey.
This year's survey questionnaire was developed and posted to the IoPP website from Jan. 22 to March 2, and both IoPP members and nonmembers were encouraged to participate.
Steady climb in compensation
Looking at total compensation in 2014 reveals that the average change in compensation in 2014 was 3.54%, with 74% of respondents earning a pay increase. Despite the overall good year, 18% indicate a decrease in compensation.
As Table 1 shows, average total compensation for 2014 was $113,071, a figure that has steadily edged upward since 2009, with 2013 the only year respondents reported a dip in compensation compared with the previous year.
On top of northward-bound salaries, 75% of all respondents received a bonus in 2014 as part of their compensation, with 7.27% reported as the average bonus.
The total compensation chart was developed based on 963 respondents, although total survey respondents numbered 1,187. Why the lower number of respondents compared with previous years?
Dennis Gros of Gros Executive Recruiters responds, "Greater stability in the employment market translates to fewer people responding to our requests for information. It's less information, but it's a good sign, because packaging professionals feel they have more important things to do!
"Packaging professionals earned a decent raise in 2014 on an overall basis. That's a healthy sign, especially if we can maintain the trend for the next several years. In another good sign, only 1% of respondents were unemployed. This was down from 2% the previous year.
"The data forecasts greater job stability and fewer employment hops. Hopefully that translates into greater productivity."
He points out that 71% of respondents say they feel very secure or somewhat secure in their current job. "This sense of tranquility has increased steadily each year. Our 2013 report indicated 65%, and 2014 showed 67%." At the same time 14% are worried about job security, down from 18% in last year's survey.
These steady increases in income and lower job security concerns show that attitudes have leaned in the positive direction since the painful recession bit into the pocketbooks of so many. The upward compensation supports the oft-held opinion that the function of packaging, which is employed in virtually all industries, is so diverse that it can withstand volatile economic swings.
By job function (Table 2), corporate management pros reported the highest average total compensation at $155,856, followed by marketing/sales at $118,984. The lowest salary level of $75,707 was reported by structural designers.
What to expect in 2015
As Chart 4 shows, 32% of respondents said they were not likely to actively seek a new job this year, while another 12% said they had definite plans to search for a new job or were currently looking. The latter figure was down from 17% who reported to be looking in 2014, another factor supporting greater job security in the current Salary Survey.
Some 53% of respondents expected their companies to maintain the same packaging staff in 2015 compared to 2014, while 32% expected to add more employees this year. Meanwhile, only 10% expected fewer employees in 2015, down from 15% last year.
Thirty-eight percent of respondents said their organizations use a temporary workforce, a strategy used more among end-user firms than suppliers. Respondents working in production are more likely to indicate temporary or contract workers.
Gros made the following points about packaging jobs and salaries in 2015:
• "Job seekers can probably bank on more offers, and employers will have a more difficult time landing new employees. That's because fewer people plan to find new employment—12% in 2015 survey, compared to 17% the year before. There's another 25% who are open to discuss a new career opportunity. But 63% won't return your phone call."
• "32% of respondents expect their companies to add staff during 2015. Where will the new employees come from?
• "The retirement bubble is real. Our industry is going to lose a lot of experience over the next 10 years. If a typical career span is 50 years, you would expect 20% to retire every decade. However, in the upcoming 10 years, the demographic rate of retirement is [expected to] double the norm."
Do you want to make more money in packaging?
Here's how to do just that says Dennis Gros from Gros Executive Recruiters, with a touch of levity:
• Get old, fast: The 65+ age category earns more than any other. Presumably that reflects experience and ability, not just age.
• Move to New Jersey—or New York—or Pennsylvania: There's more money in the Mid-Atlantic states.
• Get a degree, but stop before earning a PhD: Those with "some" grad studies represent the highest income category.
• Get IoPP-Certified: Packaging engineers and R&D Scientists who are IoPP-Certified Packaging Professionals (CPP) earned more money than their non-certified peers.
• Get a promotion: Company officers earned $154,681 while staff members earned $92,717.
• Work for a large company: The average pay for 50,000 or more employees was $119,706; $99,928 for companies with fewer than under 50 employees.
• Stick it out: Thirty-nine percent of your bosses will retire within the next 10 years. If you're the last one standing, shouldn't you get a promotion? And with a hefty pay raise?
Companies in this article