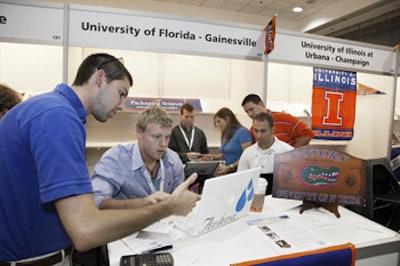 PACK EXPO is changing to make the experience more interactive, focused on show goers' agendas, and easier to navigate. Pavilions are one of PMMI's strategies, and B&R Industrial Automation (Booth S-5111) has stepped up to sponsor the new PACK EXPO Education Pavilion as well as the student design contest.
The pavilion's central location and seating areas will let students, recent graduates, educators and hiring managers meet each other in an environment conducive to dialogue. As the exclusive sponsor, B&R will even staff a human resources kiosk where mechanical, electrical, computer science and mechatronics engineering students can learn about career opportunities in automation.
"This is all about investing in the future of packaging innovation," says B&R president Marc Ostertag. "It's why we run a 12-week, hands-on engineering 'boot camp' for our new hires. It's why we're actively contributing content to the PMMI Education and Workforce Development Committee's new mechatronics curriculum. And it's why we participate in mechatronics programs such as Purdue Calumet's groundbreaking packaging machinery curriculum."
Ostertag contends that the packaging industry is experiencing a skills gap, between rapid changes in automation and information technologies, and the design engineers and technicians who must apply and maintain ever more productive and sustainable packaging machinery.
"The packaging community faces an education imperative," says Ostertag. "We all need to step up to the plate.
Few would argue with Ostertag, who also sits on the PMMI Business Intelligence Committee. "Between the student contest and pavilion, we have a great vehicle here to introduce bright young minds to packaging," he says, "as well as machine builders and users to the talent pool.
"We (on the education committee) have worked hard the past two years to refresh outdated courses and tests," says Tom Jensen, technology evangelist for pavilion sponsor B&R. "Standards, integrated safety, robotics, modern Intel-based automation platforms, servos and networks have forever altered how we design packaging lines. The choices to date have been to hire already-experienced technical people if you can find them – or to forego all the competitive advantages these technologies bring."
Marketing manager Melissa Freeman, who conducts campus recruiting for B&R, plans to leverage the pavilion sponsorship to "encourage promising automation-minded engineering students, who like to work with technology as well as their hands, to explore their career path with B&R." She explains that "the 'boot camp' experience culminates with applying control systems to a real-world machine. Our applications and sales engineering jobs involve travel, working with our customers' breakthrough machinery technology, and access to the latest engineering tools."
The student competition award ceremony will take place on Tuesday afternoon at the B&R Industrial Automation booth, S-5111, at 3 pm, prior to the keynote presentation by General Colin Powell.
Companies in this article