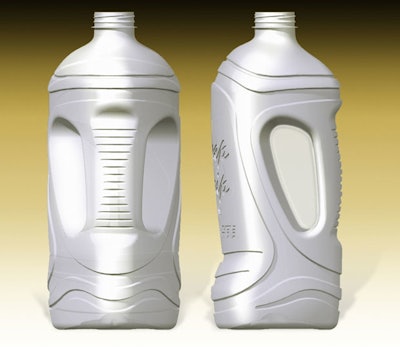 This content was written and submitted by the supplier. It has only been modified to comply with this publication's space and style.
Called Deep Grip™ packaging, the technology enables significant grip depth (more than 25mm or 1-inch on either side), with an extremely thin (less than 0.3 mm or .01-inch) grip "web" thickness. (The grip web is where the hole would be in traditional handled bottles.) The end result is a grip deep enough for the average hand to completely close around without fingers touching the container wall. The comfort and handling ability is similar to that experienced with a traditional handle.
Additionally, container size capability is extremely broad—up to 6-liters or 1.5-gallons, and beyond. Maximum bottle diameter is 220mm or 8.6-inches.
The development is one of the first commercially-viable handle processes that harnesses the advantages of ISBM. Compared to extrusion blow molding, which is the process traditionally used to produce most handled bottles, ISBM enables lightweighting, higher output per cavity, mechanical benefits (top/side load, drop and creep resistance) and smaller equipment footprint. The lightweighting (20-25%) is possible because, in addition to functionality, the grip geometry also provides structural benefits which enable a reduction in bottle gram weight.
Bottles using the Deep Grip™ technology are made in a two-step process on Sidel equipment. The first step is conventional stretch blow molding, followed by a proprietary secondary operation within the same machine which forms the handle. Because both the container and the handle are made from the same material, this eliminates downstream recycling issues and contributes to lightweighting objectives.
Another key benefit is that ISBM allows the bottle to be blown and conveyed inline to the filling operation. This eliminates the additional step of manufacturing bottles in a different location (either within the same facility or remotely) and then transporting them to the production line.
"Deep Grip technology is an ideal option for brand owners looking to drive weight and cost out of their containers, improve their environmental profile and create ways to facilitate product differentiation," says Vincent Le Guen, managing director, PTI-Europe, subsidiary of Plastic Technologies, Inc.
The objective was to create commercially-viable technology that is capable of producing up to 1,200 bottles per hour/per cavity. Further, the process needed to be applicable to a broad range of ISBM bottle polymers including polyethylene terephalate (PET), high-density polyethylene (HDPE), biaxially-oriented polypropylene (BOPP), polylactic acid (PLA) and others.
Deep Grip™ packaging also opens the door for brand owners to explore new design aesthetics. Containers are highly functional, while offering a different look for product differentiation. There is significant flexibility on handle placement allowing the boundaries of container design to be pushed further. A variety of grip diameters and profiles are also possible.
Target markets include detergents, household cleaners, non-carbonated beverages (juices, ready-to-drink teas, water, etc.), milk, edible oil, motor oil, baby bottles and other segments which are currently marketed in containers with handles. The technology is also suitable for dry products and wide-mouth applications.
Deep Grip™ technology is also ideally suited for commercialization where high clarity is desired. For example, with larger PET containers with deeper grips, now commercially viable via ISBM, the capability opens the door to a variety of conversions.
Companies in this article