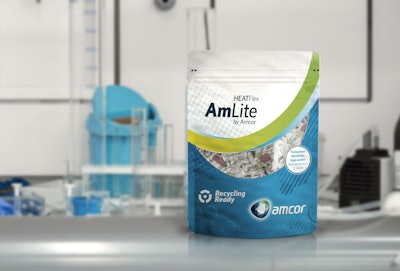 You've probably heard news of the ambitious pledges and commitments made by some of the world's largest Consumer Packaged Goods companies to increase their use of recyclable packaging. What you may not have heard is that packaging supplier Amcor has made a similar commitment, becoming the only global packaging company pledging to develop all of its packaging to be reusable or recyclable by 2025.
One of the biggest packaging juggernauts when it comes to recycling has always been multi-material film—especially in high-barrier or retort applications. After three years of research and development, however, Amcor has developed a film platform that can be recycled while being able to handle ambient medium-barrier, ambient high-barrier, and retort high-barrier applications.
Says Luca Zerbini, Vice President of Marketing, Innovation, and Sustainability for Amcor Flexibles EMEA, "We see a lot of our competitors going to market with very specific, medium- to low-barrier solutions or types of applications. What we have done is create a film that can be used in many different applications. It has the potential to convert a big chunk of the packaging out there into a structure that is compatible with existing and emerging recycling schemes."
The new film platform is an evolution of Amcor's AmLite metal-free flexible packaging technology. "First we took the metal out from the structure, and now we are also taking out the PET, so that the entire structure is a polyolefin-based material," explains Zerbini. At Amcor's silicon oxide vacuum facility in Switzerland—the only one of its kind in Europe—a layer of silicon oxide is deposited on a polyolefin film, along with whatever coating is required to meet the functional needs of the application.
According to Zerbini, the film will be polypropylene-based; future developments are aiming to target polyethylene as well. "The point is, the film can be adjusted to the needs of each customer application," he says. "We have built the engine, now we're working with customers to develop the kinds of specific structures they need."
Among the products that can be packaged utilizing the new film platform are wet pet food, ambient ready meals, snacks, nuts, confectionery, coffee, and even yogurt. As Zerbini emphasizes, the "most breakthrough" aspect of the technology is its ability to handle retort applications. The retortable grade offers barrier performances of <1g of moisture after pouch converting and retort—numbers that Amcor says align with the top-performing non-recyclable barrier films currently on the market, for example, PET barrier films. The figures for the ambient high-performance grade are below 0.1 cc oxygen and 0.1 g moisture.
Having proven out the technology, Amcor has engaged some of its largest CPG customers to co-develop flexible packaging applications using the new film. According to Zerbini, flexible packaging with this film, either provided in rollstock or in pouches, can be run on its customers' existing packaging lines. "The investment is more on our side," he adds.
Commercial applications should hit the market in 18 to 24 months. To accommodate the expected demand for the product, Amcor is considering a second plant to produce the product in Portugal, a country chosen, Zerbini says, for a number of reasons. "First, we wanted to be sure we could bring the product to market at a very competitive price for a range of applications," he notes. "Second, we have decided to concentrate a lot of pouching capabilities in Portugal, so we will be able to integrate the film and pouching in one place, when needed."
Although production will be based in Europe, Zerbini advises that the film will be available for all its sites globally.
Companies in this article